Amazon VR Could Transform How We Buy Stuff Online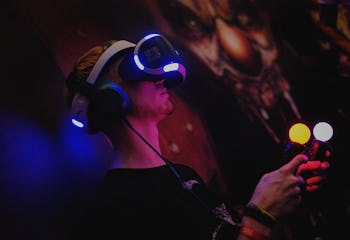 Getty Images / Sascha Schuermann
Amazon is building a virtual reality store. That's according to a new job posting from the company, looking for a new recruit to lead the digital video games team's business development efforts.
"In 2016, we will launch a physical and digital Virtual Reality shopping experience anchored by new Oculus Rift, HTC Vive and PlayStation VR gaming headsets," the LinkedIn job description reads, first discovered by VRFocus. Going by the rest of the posting, it seems that Amazon won't be limiting the service to its Prime subscribers either.
Details are thin, but the possibilities are huge. Being able to see a selection of items in virtual space before ordering could give shoppers a better idea of what they're buying. 3D product models could help home decorators visualize how multiple items could go together before ordering.
As technology progresses, shoppers could perhaps scan themselves into the virtual store, with a mirror showing how different clothing items would look. The NBA game series has a similar capability, where players can scan their face with the PS4 or Xbox One camera.
Facebook's Mark Zuckerberg predicted earlier this week that within five to 10 years, socializing in VR would become the mainstream. At that point, it's not unfeasible Amazon could update their app with social shopping features, allowing users to make suggestions and interact from thousands of miles away.
It's not the first move Amazon has made into the VR arena. In October, the company was awarded a patent for virtual reality goggles that would link up to a smartphone or tablet. Back in February, the company released a game engine called Lumberyard, capable of powering virtual experiences with high-end graphics. That, combined with Amazon's app store, shows the company is serious about becoming a big player in VR experience creation.