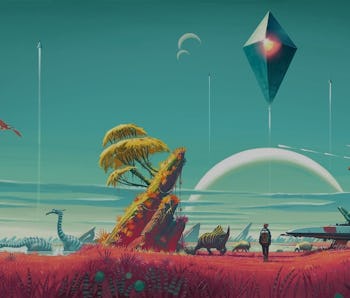 Gaming
It's Going to be Hard to Get a 'No Man's Sky' Refund
Now that 'No Man's Sky' has fallen, we have to move on. Just don't look for a refund.
No Man's Sky
No matter how you feel about No Man's Sky, the hype train was a lot of fun while it lasted. Gamers were able to support [Hello Games](https://twitter.com/hellogames, a hard-working indie company with loads of promise, while the fledgling studio attempted to craft a game that was set to change the way we played. A big portion of us fell in love with Sean Murray and his team of coders as they charted their journey to the stores.
And now that No Man's Sky has fallen from such heights, gamers are trying en masse to get their money back for what they consider a betrayal. Over the weekend, rumors surfaced that outlets like Steam, Amazon, and the PlayStation Store were offering unconditional returns. That is patently not the case.
One former Sony employee summed it up bluntly:
The point here: game sellers aren't your friends.
Murray made the game he wanted (and, by all accounts, he succeeded), and he chose to share what amounted to a deeply personal process with the community. Along the way, gamers internalized Murray's dev journey and we began to root for him, and hope that his game would be our game.
Things didn't turn out as expected, and the loyal throng of fans have since turned against Hello Games … very loudly.
It's a Learning Moment
It's fun to laud those developers who like to give back to the fans, who listen to our critiques, and adjust their strategies accordingly. But there's not a single developer on the planet who's under any obligation to do so. Just because you feel righteously angry that No Man's Sky didn't have endless amounts of gameplay for you to peruse doesn't mean Sony owes you. You bought, you played. You and the entire viewing audience of Batman v Superman have something in common. Of course, no one started claiming that Warner Bros. and Zack Snyder owed them a refund after opening weekend.
No Man's Sky is the latest in a long list of hyped disappointments, but like other failed efforts it might set up Hello Games for something truly brilliant in the future.
But, you're not getting your money back.