Global Warming Has Created a Two-Headed Hurricane Monster
NASA says there's a 99 percent chance 2016 will be the warmest year on record.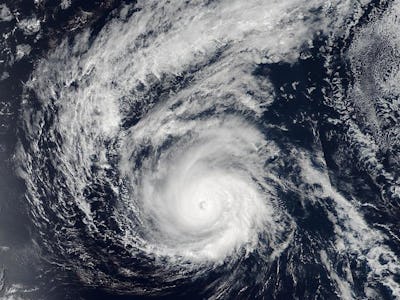 NASA Goddard Rapid Response Team
Hurricane Madeline — a category four storm whose eye measures an astounding 13 nautical miles in diameter — is expected to hit Hawaii on Wednesday. Meanwhile, Hurricane Lester is coming full-force towards the area (though it's not expected to make landfall).
The double threat is the first time that two back-to-back hurricanes have been observed in nature, and experts are positive it's a result of global warming.
The rarity of a twin hurricane hinges on favorable atmospheric conditions and the effect of long-term ocean warming. Hurricanes Madeline-and-Lester come on the heels of a sobering announcement by NASA on Tuesday that Earth is presently warming at a pace "unprecedented in 1,000 years." Climate scientists say that more heat and water in the atmosphere, along with warmer sea surface temperatures, fuel tropical storm wind speeds and make them more devastating.
"Usually the waters [along this storm track] are on the edge of what's needed to support hurricanes," meteorologist Bob Henson told Gizmodo, noting that Hawaii may be in danger for increased hurricane activity as temperatures continue to rise. "Now, they're just warm enough, and it's making a big difference."
Gavin Schmidt, director of NASA's Goddard Institute for Space Studies, has said there's a 99 percent chance that 2016 will be the warmest year on record — the third year in a row to claim that title. This means that it will be very unlikely that Earth will stay at the temperature limit agreed upon by nations as the "point of no return" — at the Paris Climate Change Conference, world leaders agreed that the change in global temperatures could not exceed 1.5 degrees Celsius. Today, the average global temperature is 1.38C above temperature levels set in the nineteenth century.
Schmidt bluntly explained the situation to The Guardian:
"It's the long-term trend we have to worry about though and there's no evidence it's going away and lots of reasons to think it's here to stay. . .There's no pause or hiatus in temperature increase. People who think this is over are viewing the world through rose-tinted spectacles. This is a chronic problem for society for the next 100 years."
The ISS, meanwhile, is sending some crazy images created by these erratic weather patterns in space. Madeline isn't expected to cause hurricane conditions in Hawaii for another 24 hours, but the space station has been able to collect an incredible time lapse Tuesday as it orbited over three hurricanes — Madeline, Lester, and Gaston: