'Supergirl' Crushes 'Ninja Warrior' Records as Green Lantern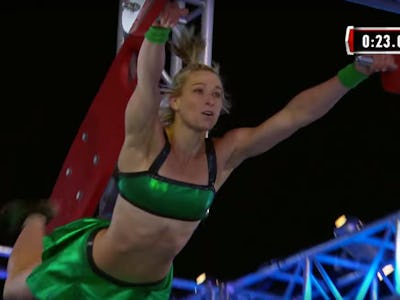 YouTube.com/American Ninja Warrior
Jessie Graff, a stuntwoman on Supergirl, became the first woman to complete Stage One of the American Ninja Warrior national finals, finishing with 12.39 seconds left on her run. Donning a custom Green Lantern-inspired outfit, the 32 year-old Graff channeled her superhero training to make history.
This week was Graff's second time on American Ninja Warrior after her badass qualifying-round performance last year, dressed as Wonder Woman. Her costumes are made for her by a friend who sews, she told USA Today. In that same interview, Graff detailed her extensive and "well-rounded" athletic training. Before American Ninja Warrior, Graff was well-versed in gymnastics, martial arts, and parkour, but she tore her ACL, TCL, and meniscus during the show's sixth season. The injury forced her to focus on other projects, and she looked to Ninja Warrior, spending eight months working on her grip strength and pull-ups.
She also believed her "flaw" from her first performance was in the Warped Wall, a tall, vertical ramp that requires competitors to build enough momentum and then utilize grip and arm strength to pull themselves up. Graff spent time at skate parks to prepare for the Warped Wall, because skaters "tend to do well on the Warped Wall." As you can see in this week's footage, she dominates the Warped Wall like it was nothing.
In the show's long-running history — which began as a spin-off of the Japanese competition show Sasuke and aired on the now-defunct G4 channel — no woman had ever completed Stage One in the national finals, until now. And if you want to dress up like a history-maker, you're in luck. Graff will soon sell her outfits on her clothing brand's website, Pi Movement.