Amtrak Will Roll Out High-Tech Trains by 2021
The trains will be capable of speeds up to 186 miles per hour.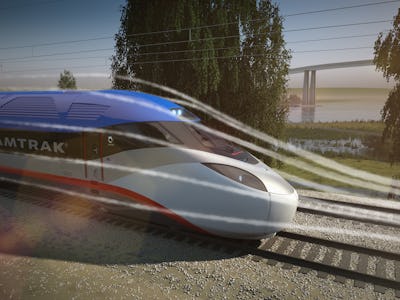 Alstom SA, 2016/ Meconopsis by Trimaran
Amtrak has announced its project to introduce new high-speed trains on the Northeast Corridor will be completed by 2021.
The New York-based company Alstom will build 28 high-speed trainsets for Amtrak's Acela Express service that takes passengers to stops between Boston and D.C. The contract's part of the $2.45 billion loan from the Federal Railroad Administration's that the company is investing in updating their highest-volume service.
In addition to improved amenities, such as USB ports and faster, consistent wifi access, the trains will represent a huge improvement in the antiquated train technology to which Americans have grown accustomed.
The trains will be capable of speeds up to 186 miles per hour and have a new "tilt system" that will both aid speed and prevent turbulence.
"These trainsets and the modernization and improvement of infrastructure will provide our customers with the mobility and experience of the future," said Amtrak President & CEO Joe Boardman in a press release last week.
While Amtrak hopes the move will bring them into the future, American train service still has a long ways to go in order to catch up with the sophisticated, high-speed commercial services available in countries like Japan.
Elon Musk's Hyperloop also threatens to disrupt traditional train services, but it's unclear if and when the technology would be ready for use.
To address concerns over the deadly derailment of an Amtrak train in Philadelphia in 2015, trains will meet updated FRA requirements for safety. A Crash Energy Management system will control the load path of trains with features including concentrated power cars at each end to "provide an extra buffer of protection," according to the press release.
"The Northeast Corridor is a national economic engine that carries a workforce contributing $50 billion annually to the national GDP," said U.S. Senator Cory Booker in a statement about the project.
Each day more than 750,000 commuters use the Acela service. The number of users has climbed from roughly 2.5 million to 3.5 million in the last decade, making a 40 percent increase in trains and increased number of seats essential to future growth.
Amtrak will begin testing the new model in 2019 and open it up to commercial service in 2021.