Someone Built a Real-Life USS Enterprise in Upstate New York
It's so good that paramount went ahead and made it official.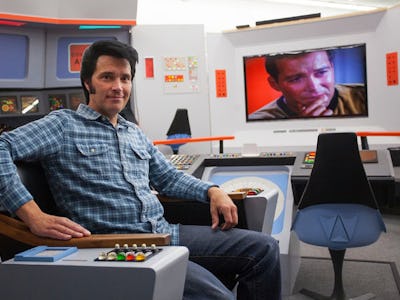 James Cawley / Star Trek New Voyages
If you've ever wanted to walk the bridge of the USS Enterprise from Star Trek: The Original Series, you're in luck. A group of fans built elaborate sets from the show's original blueprints, which were so good, they're now a fully functional museum in Upstate New York.
Super-fan James Cawley originally constructed the sets for use in his fan films, starting with a 2004 work called Star Trek: New Voyages. Cawley and his cohorts released 10 more short installments before running into a snag with Star Trek rights-holders Paramount Pictures and CBS Studios. The team decided to call it quits on the fan films, but still wanted to connect with fellow fans, so Cawley opted to open the sets to the public. Eventually, he got an official license from Paramount and CBS to make the spot official. Now Trekkies can make the journey to Ticonderoga, NY, to get a taste of Star Trek IRL.
It's only fitting that a Star Trek set museum would open up shop in a town called Ticonderoga — a word that has some significance of its own within the Star Trek Universe.
Star Fleet had Ticonderoga-class ships in the 23rd century, and there was even a ship called the USS Ticonderoga, named after the real USS Ticonderoga.
Sure, the Ticonderoga doesn't have the name recognition of Enterprise or Voyager, but Enterprise sets landing in a town that shares a name with a Star Fleet ship? That seems pretty poetic.