5 Strange Accents Britney Spears Tries in 'Glory'
The immaculate ninth album from the iconic pop star features all her best accents and vocal tricks.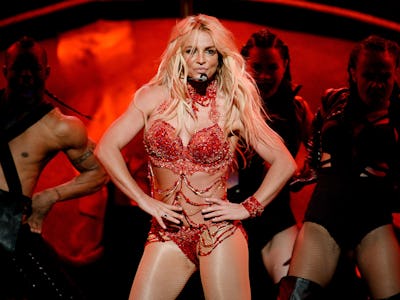 Getty Images/Kevin Winter
Of all the things that make Britney Spears an indisputable pop icon, her constantly cracking, distinguishably thin singing voice is one of the most trademarked. With a number of major celebrities perfecting the vocal fry today, we must not forget about its glorious progenitor, Britney, whose seductive croaking has separated her from the rest since her 1999 debut …Baby One More Time.
On Spears's ninth studio album, Glory, out today, she's returned with a 17-track effort that has her seizing musical control in a way that feels absent on Britney Jean, arguably her most disappointing work, released in 2013. On Glory, her producers spotlight her vocals prominently and proudly – which feels like a kiss-off to the haters who hate on Britney for her un-traditional voice. In addition to the unmistakable vocal crack, she tries her hand at a variety of voices and accents throughout Glory, and most of them are totally charming.
Is it too soon to say that her next gig may in voiceovers? Well, first let's round up and assess five accents and voices she tries throughout the duration of Glory, an album that completely exceeds the expectation of its name.
Alien accent in "Man On The Moon"
Britney continues the outer-space theme from Britney Jean's "Alien" in "Man On The Moon," one of the album's vulnerable gems, namely because she drops a devastating alien voice. The song finds Britney longing for a lost love that's now so distant it feels like a whole world away, which explains her impression of a lonely, sullen alien at the very beginning of the song. She doesn't maintain the alien inflection throughout, but it sets the scene by launching us into the dark abyss.
Vocal range in "What You Need"
The brassy, cocksure "What You Need" is a sonic outlier for Spears, who usually opts for a more sultry or club-ready sound, but it accentuates her vocal range more than any other track on Glory. "What You Need" isn't the best song on Glory — it nods a little too obviously to Meghan Trainor for my liking — but I can't recall a song that emphasizes Britney's vocal capabilities as much as this one. It shows off Britney's loudest and most piercing vocals, her low, quivering register, and everything in between, making this one of her most commanding vocal performances.
Spanish accent in "Change Your Mind (No Seas Cortés)"
Backed by sparse production and fluttering Spanish guitar, Britney tries her hand at a Spanish accent with the repeated phrase "no seas cortés," which means "don't be polite", in the song's chorus. Clearly, Britney wants a man who's going to rough her up a bit. Her accent truly stuns during the predominantly Spanish bridge, enough to make you think you're listening to a native speaker.
"Yo sé que estas intentando ser educado
Yo sé que me quieres tratar bien
Pero no seas cortés"
Which translates to:
"I know you're trying to be polite
I know you want to treat me well
But don't be polite."
The message is sexy, and the dedication to the Spanish lyrics is even sexier.
A British accent in "If I'm Dancing"
This one is minor, but you'll catch it if you're a devoted Britney fan. Those of us who worship Godney know to look out for that British accent that confused but ultimately entertained in her 2013 collaboration with Will.i.am "Scream & Shout," and luckily she reprises it for a quick second in "If I'm Dancing." She rounds out and softens the "a" in "dancing" à la My Fair Lady's "I Could Have Danced All Night" during the song's chorus, which gives the song an extra dose of drama to propel it forward.
A French accent in "Coupure Électrique"
Britney finishes Glory on an exclusively French note, channeling all her breathy vocal sensibilities into a spot-on French accent in "Coupure Électrique." Compared to Spanish, for example, French is a difficult language to sound out and pronounce given that few words are pronounced phonetically. Singing in French to capitalize on a song's sensual and romantic mood may be a bit cliché, but Britney's commitment to the tricky pronunciation makes the last song on the album a sexy and well-deserved send off.