How to Do the Perfect Barry Obama Impression
The trick? Forget you're the future president.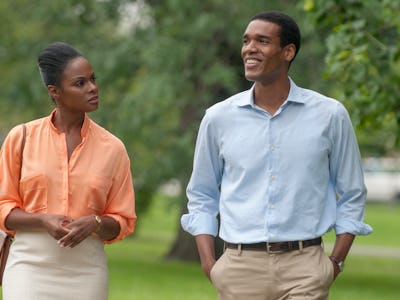 Roadside Attractions
When Richard Tanne and Parker Sawyers arrived at the Altgeld Gardens to shoot scenes for their film, Southside With You, they asked residents for their memories of a young Barack Obama, who organized the community in the late '80s.
"What I learned was that he was universally beloved, and in particular the women in the Gardens all had crushes on him," Tanne recalled during a recent interview with Inverse. "And as a result, many of their husbands and boyfriends were jealous, in an innocent way."
That was good news for Tanne, the film's director, and Sawyer, who plays the young president-to-be. The film, which took skeptical critics by surprise when it premiered at Sundance earlier this year, is a sort of fact-based, fan-fiction retelling of Barack and Michelle Obama's first date. Barack — then known to most as Barry — was a Harvard Law student and summer associate at a prestigious Chicago firm, under the nominal charge of a staffer named Michelle Robinson (played by Tika Sumpter).
Young but worldly and confident, Barry asked Michelle out on a date; she had good reason to turn him down, and even after relenting, she took care to insist they were not on an official date. Unbowed, Barry took her on a tour of the South Side of Chicago, the loose details of which have since been recounted in various memoirs. In Southside With You, Tanne fills in the blanks with a mix of logical leaps and scenes, creating a sweet, somewhat idealized portrait of a young couple destined for greatness.
Sawyers, who had small roles in films like Zero Dark Thirty, put his best Obama impression on the first audition tape he was asked to submit; he'd always been good at mimicking voices and mannerisms, and figured that was what the director of this confusing indie flick would want. Tanne, however, wanted the Obama that drove around with a hole in the passenger seat of his beat-up car, not the one who flew around in Air Force One. Sawyers toned it down and got the role – but there was a lot more work ahead to find the right era of Obama.
Luckily, the internet offered a treasure trove of material for Sawyers to explore. He watched a whole lot of videos and interviews, but one he said was particularly helpful was a speech Obama delivered at a Harvard protest in 1990.
"I think over 50 percent of what we see now was there. He had the voice, he had the mannerisms, and he had the cadence. [In the video] he says, 'He's a professor with charm and intelligence and equal measure,'" Sawyers remembered, dipping into a pitch-perfect impression of the president as a young man. "So that helped man. And his hand was in and out of his pocket, so I wanted to make sure I did that. But that's something I do naturally, not in the same way, but I also I'm a tall, lanky guy, which I figured is why he does it."
And it was those unconscious tendencies that Tanne emphasized most.
"When it came to the mannerisms and Obama-isms, my stance was that that type of stuff needs to bubble to the surface in an un-calculated manner," Tanne said. "One of my only notes to Parker ever was to pull back from impersonation, to play the character on the page, and take the focus off of mimicry."
As the date winds on – through a trip to an art museum (Tanne had to invent the exhibition they were seeing) and a stroll through the park – Barry wears down Michelle's defenses. It's their smart, flirtatious back-and-forth that forms the core of the movie, and it's easy to get lost in the courtship and believe you're really watching the Obamas fall in love. The success of these scenes can be credited, in part, to Sawyers's efforts to forget that he was playing a future president.
"I definitely just played a guy, a 28-year-old. I gave a little more thought to how he was living at that moment," he explained. "He's an intern, he's sort of a student, he's got things coming up in the fall semester, he's got loans he's racking up, he smokes in his apartment, he's calling his mother. He's essentially alone in the city. And he really liked this girl, and he thinks she's hot. And she is hot. So once I understood that, I was like, Ah, I know how to play it.'"
Southside With You is now playing in theaters nationwide.