Twitter Banned this Journalist for Posting Olympic GIFs
And here's the GIF in question.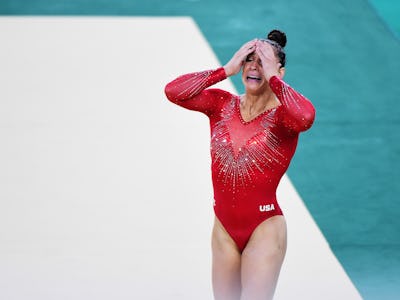 Getty Images / Harry How
A sports writer learned that the International Olympic Committee wasn't kidding when it banned people from sharing GIFs of the 2016 Olympics online, despite the games's long history of totally sweet GIFs, the internet's preferred image type.
Jim Weber, a contributing writer for Athlon Sports was "permanently" banned from Twitter on Thursday because the IOC complained about his tweets. Why? Because he shared several GIFs of Aly Raisman's incredible gymnastic floor routine.
In a post about the ordeal, Weber explains that he received an email from Twitter informing him that it was taking down the tweet; then a letter from the IOC warning him that it "reserves all its rights to take whatever action against you that it deems appropriate"; then another email from Twitter informing him of a temporary suspension; and then a final message letting him know he had been permanently banned from the site.
Here's what it looks like when Twitter officially drops the hammer and says BANNED:
It's weird that the IOC targeted Weber personally, because GIFs of the weird 2016 Olympics were everywhere on social media. Some of those posts have been taken down, but you can still find the GIF that seemed to start this entire ordeal, right here:
The 2016 Olympics offered a strange glimpse at the future of media. Besides showing that China's artificially intelligent reporter could replace journalists, it's also shown that companies and organizations are going to be more strict than ever about policing what's shared to social platforms.
All of which raises a question about which is more important: Bowing to influential organizations like the IOC, or preserving social media's perception as a bastion for free speech? Even Twitter doesn't seem to know: After perma-banning Weber on Thursday, it reversed its course earlier this morning and restored his account.
Welcome back, Jim. We saved a few gifs for you.