4 Reasons to Get Excited About Android Nougat
Virtual reality touch controllers, anyone?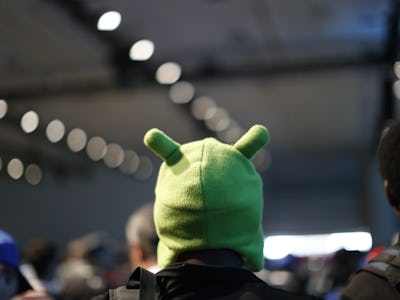 Getty Images / Stephen Lam
Android Nougat is out! Sort of. The 7.0 update to the world's largest mobile operating system probably won't reach your phone for a while, thanks to the convoluted way Android updates work. It'll be down to the phone's manufacturer to set a timescale and send the update, but what that does mean is that, as Google's baby, Nexus owners should already have update access. Woo!
But what's there to get excited about? Normally a x.0 release signifies something radical, but in the case of Nougat (a name chosen by the internet), it's more little refinements that solve some of Android's biggest irritations. Here's what to expect.
Multitasking
Galaxy Note users are reading this and probably thinking "hold on, I've already got multitasking!" That may be true, but now the feature is based in at a system level, rather than an aftermarket add-on cooked up by Samsung. Google's implementation means phablet and tablet users can finally put their big screens to good use, showing two apps side-by-side. To activate, it's as simple as holding the Overview button and choosing a second app to load.
Apple introduced a similar feature back in iOS 9, and it proved more useful than expected when the company unveiled its iPad Pro. On the 12.9-inch screen, multitasking makes sense as it allows users to take better advantage of the available space. Google's implementation may give tablets like the Pixel C a new lease of life.
New emoji
Let's be honest, this is the reason most people are gonna upgrade. In its infinite wisdom, Google has extended support for Unicode 9 to Android, which means all the great additions to the emoji guidelines (yes, they do exist) have made their debut. Avocado, gorilla, illness, and egg are just some of the new ways users can express themselves.
Nougat also brings the skin tone picker to Android, but unlike iOS, it doesn't remember your preference. This leads to an annoying tone-picking process every single time you want to add a new emoji.
Battery savings
Pokémon Go means everyone's phones die before lunchtime, and Google has picked up the zeitgeist in the nick of time by making some much-needed Doze improvements. The battery-saving feature debuted in Android Marshmallow, and in Nougat now tries to kill juice-sucking apps when the phone's screen is off. Don't expect great savings, though: The Verge writes that it didn't notice a big difference in battery life, though the reviewer was using a near-final beta version.
Google has also made it easier to access battery-saving toggles in the Quick Settings. Users can now tap "edit" and choose which options are available with a flick down from the top of the screen.
Virtual reality
Nougat's virtual reality features give Samsung a run for its money, with the new "Daydream" platform. When it launches, the system will work with "dumb" headsets to provide a cheap way to join in with the VR craze, unlike the Gear VR which is priced at $99.
"Daydream" will support a fancy new touch controller for interacting with the virtual world, while apps will have better support through a special "VR mode," improving the lag linked to motion sickness. Nougat is laying the foundations for a big shift in mobile VR solutions.