The 5 Best New Emoji Coming in Unicode 9, Ranked
Get acquainted with these new faces.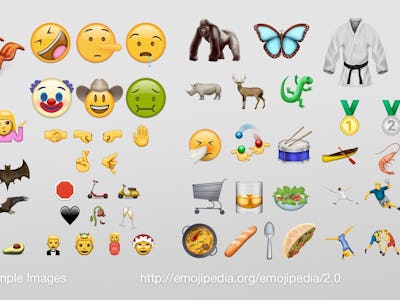 Emojipedia
Brace yourselves. Unicode 9, released Tuesday, introduces 72 new emoji. There's some excellent ammunition for emoji addicts to strut their stuff, opening up a vast wealth of creative new putdown opportunities. Or friendly messages, who knows. Here are five of the best new symbols that you really need to start preparing to use in your everyday life.
1 - Nauseated Face
To pull a sickie in days gone by, you'd have to hunch over, put on your best Vito Corleone voice, and call your boss. Assuming it all went to plan, he'd believe you were ill.
Thankfully, those days are over. With the new nauseated face, send your boss a single emoji! In just one symbol, you've conveyed how absolutely plastered you got the night before, while all he suspects is that a long lost family relative coughed some germs in your direction. Technically, you haven't lied, but you still get the day off!
2 - Selfie
The selfie craze may have died down somewhat over the years, but the selfie emoji could bring it back with a roaring vengeance. Why try to express your wish to take a picture of yourself by doing it, when instead you could use a symbol?
3 - Avocado
The avocado may be over-cado, according to The Guardian, but let's be honest, it's an outrage that we haven't been able to properly communicate what the main ingredient of guacamole is before now.
Tell your friends that they need to get themselves over to the nearest boozy brunch place by sending an avocado, a champagne bottle, a clock, and a group of people. Without the avocado, it just comes across like you're incredibly eager to start drinking, which totally isn't the case because, for some reason, boozy brunch exists in a sphere of acceptability, separate from all the other reasons why people start drinking at 9 a.m.
4 - Black Heart
If you want to show you're emo to the core, you need black heart emoji. The scene kids may have gone to college and traded in their skinny jeans for khakis, but they know when those first few notes of "I'm Not Okay (I Promise)" come on, it's thick eyeliner and off-key shouting all the way. You can take the kid out of the emo, but you can't take the emo out of the kid.
5 - Fox Face
Remember that song by Ylvis a few summers ago, "What Does The Fox Say?" Yeah, well now you can recreate that in emoji form! Simply add the fox face to the start of your next message, write out your original text, and the recipient will finally learn what the fox said!