Eminem's "Lose Yourself" Is the Ultimate Workout Jam
A music psychologist explains.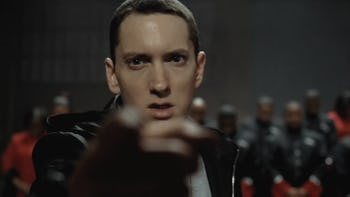 In the wake of the Rio Olympics, droves of inspired individuals will descend upon the planet's gyms, flashes of gold medals still glimmering in their eyes. Sustaining the dogged determination displayed by Olympic athletes won't be easy — laziness is inevitable — but working out to the right song, according to music psychologist David Greenberg, Ph.D., can be crucial to keeping us in a winning frame of mind. Need proof? Look no farther than the musical choices of swimming GOAT Michael Phelps, whose pre-race playlist consists, by and large, of intense, early-aughts Eminem.
Phelps has cited the Detroit rapper's classic angry-dude "Lose Yourself" as a crucial element of his pre-race soundtrack, which makes sense for an athlete infamous for his hashtag-worthy scowl. Greenberg, who consults for Spotify when he's not conducting research at the University of Cambridge and the City University of New York, commends his choice, but because of the song's intensity, not its angry mood. "'Lose Yourself', definitely, can put you in that flow, in that zone, get you focused," he tells Inverse, explaining that the 2002 8 Mile theme strikes a perfect balance between excitement and calm, lyrically and musically. Of Phelps, he notes, "I'm sure that's what he's looking for."
Designing a workout playlist, Greenberg says, is all about hitting an "optimal level of arousal," and the songs we may think are ideal for getting us amped are not always as effective as we assume. "If you're too pumped up or too excited, you might overshoot," Greenberg says. Simply put, don't get too angry: Songs by Rage Against the Machine or Metallica, he notes, would be less optimal choices than "Lose Yourself," which builds a sonic world in which the listener is propelled by the song's upbeat tempo and competition-themed lyrics but not emotionally and aurally overwhelmed by vitriolic, spit-fire rapping, or lightning-fast electric guitar riffs.
Still, workout music should light a flame under our butts. "If you're not motivated enough, then you'll lag behind," Greenberg notes. Good thing, then, that "Lose Yourself" is no slouch. "The beat itself elicits movement when you listen to it," Greenberg says. "That movement can be linked to motivation, to get someone going." The timeless intro's steady, palm-muted chords set the pace for spartan, unfaltering drums, and the speed and urgency of Eminem's delivery increases as the song builds. This kind of intensity useful for the athlete: The song sets a pace and refuses to relent, giving way only to acceleration.
But as a workout song, the most important thing "Lose Yourself" has going for it is its lyrics, Greenberg notes. "There's so much, within this song, that will get somebody ready for what they've been training to do for years," he says, pointing to the song's generation-defining introduction — "If you had one shot or one opportunity/To seize everything you ever wanted in one moment/Would you capture it or just let it slip?" — and rhymes like "This world is mine for the taking/Make me king" as examples. Whether you're in the middle of a workout or mentally preparing for a race, he says, "the music is really playing to the moment."
He draws a parallel between Eminem's fictional rapper B-Rabbit and the Michael Phelpses of the athletic world. "Lose Yourself is from the movie 8 Mile, which is all about where you're coming from, where you're going, and what you're going to achieve," he notes. The former Detroit rap scene, rife with aggression and violence, is, in this sense, a perfect metaphor for the world of competitive sport. But of course, he demurs, what song elicits feelings of intensity in an athlete is, ultimately, subjective. In other words, when you're creating a workout playlist, finding your own personal "Lose Yourself" is key.
The other artists on Phelps's playlist — Lil Wayne, Young Jeezy, and Skrillex make appearances on his lineup — shed light on the intense frame of mind the 23-time Olympic medalist attempts to recreate every time he prepares "get amped," as he put it in an interview with People this month. But by including the significantly more mellow Eric Church on his lineup, Phelps underscores Greenberg's advice that music should make you move — but not too much. Striking a delicate balance between motivation and focus is crucial to performance.
"How unfortunate would it be if you can't get into that zone or that moment when you're about to perform in that setting, and it just passes you by?" Greenberg muses. "The music is helping him do that, which is kind of beautiful."