Will We See a Cloned Horse in the Next Olympics?
It's happening sooner than you think.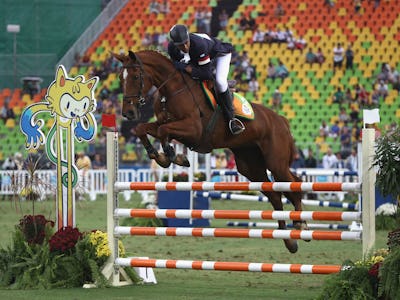 Getty Images / David Rogers
It's been four years since the Féderation Equestre Internationale (FEI) lifted its Olympic ban on cloned horses. No cloned horses competed in the London Olympic Games, just as no cloned horses competed in the Rio de Janeiro Games. We can't say for sure whether cloned horses will compete in the 2020 Tokyo Games, but it's a beginning to be a possibility in a way it never really was before this point.
The first horse was cloned in 2003. According to Blake Russell, the president of animal cloning giant ViaGen, the focus for equine cloning was initially just on creating breeders, not competitors. But that's changed in the last five years or so, as Russell's clients have watched their cloned foals develop into "outstanding individuals." Cloning is coming around in the equine community not just as a valuable breeding tool, but as a means to produce - or reproduce - a champion.
ViaGen currently clones between 60 and 100 horses per year, and has been providing cloning services to the equine community for a decade now, meaning the oldest foals are now just now approaching their prime age for a lot of equestrian disciplines. (A horse is at its peak for sports like Olympic eventing in its early teens or so.)
ViaGen has several authorized representatives to work around the world. One such representative is Replica Farms Equine Cloning Services. Replica Farms was responsible for cloning Tamarillo, the champion horse made famous as William Fox-Pitt's long-time mount. Tamarillo was put down last year; Fox-Pitt, 47, competed in the Rio Games riding Chilli Morning. The Tamarillo copy was dubbed Tomatillo, and the success remains arguably the highest-profile equine cloning to date.
"We're probably looking at a good eight more years before any [cloned horse] is qualified enough to compete in the Olympics," said Kathleen McNulty, owner of Replica Farms. "We're talking about the pinnacle of the sport. Most of these young jumpers and eventers are three, four years old now, they're starting to climb in the lower divisions."
Both McNulty and Russell said that cloned foals are, thus far, growing up to eerily resemble their donors, and not just physically: They're developing the same personalities, the same mannerism, the same jumping style. A side-by-side look at Tomarillo and Tomatillo looks like a game of Circle The Differences.
Results like this are what's driving the increased emphasis on cloning foals for competition and not just breeding. People are now coming to Russell and McNulty with the intention to clone for performance. So while it's a longshot — but still possible — that we'll see a cloned horse in the 2020 games, there's a better chance they'll show up in 2024.
"I'll be reading about some warmblood or reading a tweet and going 'Wow, there's a beautiful horse,'" Russell said. "And then I'll remember we cloned it five years ago, [that] it's just now showing up in public."