'Sausage Party' Might Have Been More Religious Than 'Ben-Hur'
"Fast and Furious with Jesus" either needed more 'Fast and Furious' or more Jesus.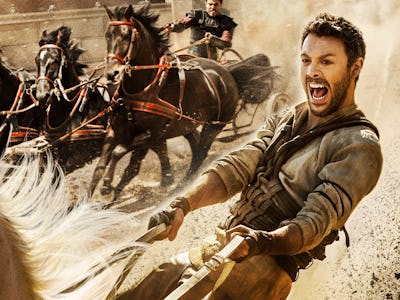 Paramount Pictures, MGM
Faith-based blockbusters occupy a weird space in North American cinema. Ever since Mel Gibson's wildly successful Christian outing with Passion of the Christ, faith-based blockbusters have failed to compare, including this weekend's Ben-Hur.
The classic sword-and-sandals story about a fallen nobleman forced into slavery under the Roman regime – only to avenge himself thanks to the literal help of Jesus – is the fifth film adaptation of the Ben-Hur story. The film failed to make a notable box-office impression, grossing only $11 million its opening weekend. And the film's failure indicates a weakness in the faith-based movie market.
Since Passion's enormous $612-million box-office success, subsequent faith-based blockbusters like Darren Aronofsky's Noah (2014) and Ridley Scott's Exodus: Gods and Kings (2014) failed to ignite the U.S. market, relying on global box office returns to recoup huge production costs. Likewise, 2016's Ben-Hur will have to perform strongly abroad to make up for its $100 million production budget.
Reports from inside the production claim that the studio was divided on how to promote the film, effectively splitting the difference between religious and mainstream movie audiences. The promotional efforts for the film enlisted notable religious personalities like Joel Osteen to promote the film to faithful moviegoers. However, others within the team said that the film also attempted to bury the religious aspects of the film to appeal to a broader, action-hungry public.
Whether or not religious films need violence to make the content "cool" is debatable – considering the failure of action-heavy films Noah and Exodus. It's increasingly clear that Passion was an anomaly among blockbuster films chasing the faithful moviegoing crowd that make indie religious films like God's Not Dead into successes, but not "Fast and Furious with Jesus" *Ben-Hur.
Instead, pop-punk DC film, Suicide Squad maintained its box office dominance while Sausage Party continues to surprise by coming in second place its third week. Sausage Party has been praised for its surprisingly humanist narrative, making the case that there is at least one successful religious film in box offices.
Todd Phillips's arms-dealing dramedy War Dogs and Laika's gorgeous new animated film Kubo and the Two Strings follow Suicide Squad and Sausage Party, making this weekend fairly eclectic in movie choices.