How LAIKA 3D Printed an Animated World
We visited the set of LAIKA's most ambitious film yet to find out how the studio is innovating the art of stop motion animation.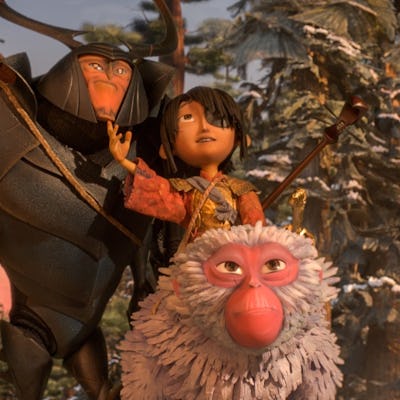 LAIKA
LAIKA Studios has spent the last decade not only fighting to keep stop motion animation relevant, but also working to take the old school art form to new technical heights — one frame at a time.
In the age of computer animation, the Oregon-based studio has produced several of the best and most beloved animated films of the last ten years: 2009's Coraline, 2012's ParaNorman, and most recently, 2014's The Boxtrolls. Earlier this summer, Inverse visited the set of LAIKA's next film, Kubo and the Two Strings (in theaters August 19), to take a close look at the process and talk to the creative team that brought to life the studio's biggest film yet.
Once Pixar burst on to the scene with 1995's Toy Story, computer animation quickly dominated the field — it was faster, cheaper, and more creatively freeing than anything that came before it. At LAIKA, though, the art of stop motion animation is very much alive. The technique is full of challenges and inherent limitations, but with an army of creatives and a unique hybrid method that blends visual effects and traditional tactile stop motion animation, LAIKA embraces those challenges and removes limitations with some ingenuity and a lot of Tyvek.
Kubo and the Two Strings is LAIKA's biggest undertaking to date. The story of Kubo's (Art Parkinson) quest through a fantastical Japan to unravel the mystery of his legacy and save his family, Kubo and the Two Strings moves through a number of big, expansive locations. The world that Kubo and companions Monkey (Charlize Theron) and Beetle (Matthew McConaughey) traverse is full of forests, oceans, icy wastelands, and grand, mysterious structures like the Hall of Bones.
"We were looking at a story that was epic," Visual Effects Supervisor Steve Emerson told Inverse. "It was beyond anything we'd ever done previously here at LAIKA. More environments, more effects, lots of crowds."
The vast majority of the elements in stop motion films are designed and built in the physical world. Instead of actors, there are posable puppets. Instead of studio backlots, detailed sets are built in miniature. So, of course, an epic story meant an epic build. The entire production of Kubo and the Two Strings took 94 weeks and one hell of a shopping list.
As the heroes and central characters of these stories, the puppets are crucial. They come together in several parts, with costumes and body parts, internal armatures, and skin that's made with soft materials like latexes and polyurethanes.
"We build it up, we get all of the right information, and we eventually end up with this fully articulated, tension-able, posable skeleton that is inside the puppet," Georgina Hayns, the film's Puppet Fabrication Supervisor, said.
Because elements of Kubo were inspired and influenced by origami, the appearance and texture of paper was central to the aesthetic of the film. But in building the prototype puppets for origami characters like the 2-inch tall Little Hanzo, Hayns and her team quickly found that actual paper wasn't going to stand up to the demands of animation, which requires a lot of movement.
The solution: Tyvek, a material commonly used for housewrap in construction and disposable protective apparel. Crucially, it stands up to abuse without losing the appearance and essential foldability of paper.
"You can rest assured with making puppets, there's always going to be a material out there — you don't know what it is, it might take awhile to find it — but there's always something that fits the needs of what you need to do," said Hayns.
In total, the production of Kubo used 16,725 feet of Tyvek paper. That's roughly the equivalent of 11.5 Empire State Buildings stacked on top of one another. And even that number pales in comparison to the total amount of kraft paper used, which clocks in at 26,300 square feet.
It wasn't just paper that came in at epic proportions, though. To bring Kubo to life, it took 358 pounds of Sculpey clay; 36 pounds of liquid rubber, 358 gallons of resin; 789 cans of spray paint; 4,392 English beading needles; 26 gallons of Rit dye; 177,187 cotton swabs; 215 feet of gooseneck tubing; and 2 Classic Atari 2600 joysticks — and that just barely scratches the surface of the materials list.
Everything about Kubo is big, grand and epic. But like every LAIKA production, Kubo started with what Assistant Art Director Phil Brotherton calls the "touchstone reference" — the core idea that informs the style of the film. For ParaNorman, that touchstone reference was an actual town in New England, meticulously photographed by the creative team.
"In the case of Kubo, we looked at a ton of Japanese art," Brotherton said, "but what we kept coming back to was Kiyoshi Saitō, who was a classically trained block print artist from Japan, but who was influenced by global art."
"We liked his style, says Brotherton. "We liked his graphic quality, the patterning that's inherent in block printing, and we wanted to see if we could take those very graphic images and put them into a 3D world."
"One of the signatures of the work that he does is its an economy of space and simplicity at times, which we felt like we were seeing in a lot of the scoop patterning," Emerson said.
A close look at many of the puppets and elements of the set revealed that distinctive woodblock texture and Saitō's signature simplicity. An example that stuck out to me was the Moon Beast — another one of LAIKAs most ambitious endeavors for Kubo.
The Moon Beast is the first fully 3D-printed puppet that LAIKA has ever done. Made up of a series of 3D-printed shells that bolt over a centralized gooseneck armature, the Moon Beast was a unique undertaking on the part of LAIKA's Rapid Prototyping department, which typically works with the faces and heads of characters while the puppet department handles the rest. For the Moon Beast, though, separating the body from the head wasn't really an option.
"There was no clear delineation between the head and the body," Director of Rapid Prototyping Brian McLean explained. "He had a very similar scale pattern across his entire body."
In total, the Moon Beast is made up of 130 3D-printed pieces. Though the final look of the Moon Beast is achieved with some complementary VFX work, a lot of it comes down to the 3D printing technique itself — a technique that LAIKA changed dramatically for Kubo.
"For the first time, we could actually print translucency with color," says McLean.
LAIKA's been using a unique approach to 3D printing for replacement animation (for which it was recently awarded a Scientific and Technical Oscar) since Coraline.
"We realized that we had really pushed the performance of a stop motion character into a whole new realm," McLean said of the work on Coraline, "something that was never achievable before, but the technique of having to hand-paint each individual face was pretty laborious and time-consuming. So between Coraline and our next film, ParaNorman, we tried to build off of what we had sort of pioneered and we worked towards using a different type of printer, which was a color 3D printer."
But with Kubo, the character designs of Kubo, Monkey and Beetle were more complex and the scale of the film demanded that McLean and his team find a way to mass produce colored 3D printed components for these characters. Needing to find a way to fine-tune the process without sacrificing speed of production and the quality of the colored components, McLean set to work trying to find a 3D printing solution that fit LAIKA's needs for Kubo.
Eventually, he found it in a very new printer from Stratasys, one of the leading makers of 3D printers. McLean says the hardware was great and showed a lot of potential, but that the software was limited and ultimately wouldn't suit the needs of Kubo. So LAIKA approached Stratasys about the possibility of developing their own software to use with the manufacturer's hardware.
"It's a little bit like going to Apple and saying, 'We love your iPhone, but we hate your operating system. Let us develop our own operating system,'" says McLean. "And Stratasys agreed and we embarked on a collaboration together and it meant that during the course of the production of Kubo, we were producing plastic color 3D printed part that literally no one else in the world had the technical capabilities of doing."
The Moon Beast was among the most unprecedented feats for the Rapid Prototyping department, but Kubo also brought about major advancements in terms of character performance and expression.
The Rapid Prototyping team, which made up of 70 people, prints character faces in two main sections (the brow section and the mouth section), but also prints all of the elements that go inside of a character's head (think eyeballs, eyelids, ears). This allows animators to use pieces to create more combinations to make characters more expressive. All of the moving parts create flexibility and allow character performances to become more nuanced and sophisticated.
With every LAIKA production, the Rapid Prototyping team has pushed character performance forward with increases in the number of possible facial expressions for its characters. In 2009, Coraline (the character) had 207,000 possible facial expressions. Norman, from 2012's ParaNorman had 1.4 million possible expressions. But Kubo has over 48 million possible facial expressions, while Monkey has 30 million and Beetle has 13 million.
From its impressive sets like the Hall of Bones, with its 17-foot Skeleton puppet (the largest in stop motion history, by the way) to its 3D-printed puppets, Kubo is far and away LAIKA's most ambitious project yet. But that's the way LAIKA works — once a particular set of challenges is tackled, the creators move onto something bigger. After all, there are always more problems to be solved with tulle, mesh, and Tyvek.
LAIKA is a studio that's unique in the worlds of animation and filmmaking because everything about a LAIKA production is massive, even when things are in miniature. A LAIKA film is the product of an army of people — costume designers, puppet fabricators, 3D-printing experts, visual effects teams, animators, set decorators, model makers, painters — coming together to solve problems and create worlds that feel real, even and especially in their extreme stylization. We have no idea what LAIKA's working on next, but it's a good bet that whatever it is, it's going to build upon the grand-scale innovations and advancements that Kubo brought to the world of stop motion animation, and we can't wait to see it.