Why Are Anime Fans Losing Their Minds For 'Re: Zero'?
Taking a look at the increasingly popular time travel anime that tastefully brings new life into an exhausted trope.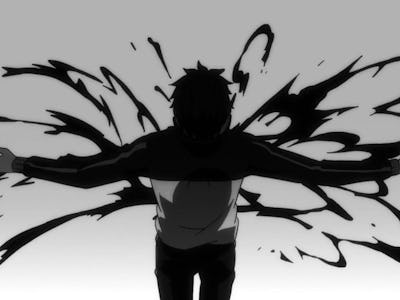 YouTube
If you've been loitering around anime news lately, you've probably heard about Re: Zero -Starting Life in Another World-, which is becoming a hot topic of conversation for many, so much so that /r/anime posted a permanent warning on its message board, relegating all complaints about the show to a single thread, and recommending users download a filter for Re:Zero content. So what's the deal? Well, it's a damn good show.
From the minds that brought us Steins; Gate, this story follows a tracksuit-wearing NEET that is in the midst of picking up a manga and some ramen when he's suddenly in a strange parallel world, but this isn't just another trapped-in-another-world cliché. What makes this a little more interesting is the main character falls into a time loop. Each time he dies, he goes back in time.
When a nerd such as our main character gets thrown into this overdone trope of parallel worlds, the character usually ends up being a self-insert, where the creator or viewer can feel like they are the character in this new world. Although Subaru Natsuki takes to the new parallel world a little too well, his potential to be a self-insert is squashed the more and more the series develops and he becomes his own fleshed out character.
Admittedly, his dialogue can be a bit much, and he's the reason for some audiences' dislike for the anime, but his reactions and characterization are very believable, even though he can go on nerdy tangents and exuberant spiels a few seconds too long. He's an extremely sympathetic character that plays even more of an impactful part, not only in the series, but its message.
Subaru Natsuki takes self-inserts and stomps them into the ground. This series really delves into the question of what it would actually be like if a completely ordinary, albiet pure-hearted and witty, person was transported to another world.
This idea obliterates immediately in the first episode when no one gives Subaru a shining prophecy he needs to fulfill. He embarrassingly stumbles between one faux pas to another, as no inherent ability he wasn't aware of before manifests before him. He's just an ordinary dude making the best of what he has.
This is the gritty and heart-wrenching take on an increasingly stale plot-point that Sword Art Online, another "trapped in another world" scenario, wanted to be. SAO shit on its characters just to shit on them until they became invincible and nothing even touched them, but Re: Zero does so to improve and keep them hoping for a better future and outcome.
That's what makes this entry into the genre more memorable. The story may be morbid and emotional and gruesome, but it's equally lighthearted, funny, and sometimes inspiring. There's a growing gravity to Subaru's situation; a believable reaction to that encroachment, and a showing of his perseverance despite the hell he goes through.
The series doesn't make his efforts cheesy; it's not the power of friendship or love or the planet that give him a surge of overpowered ability, but making the best of an astoundingly shitty situation – because who wants to be dragged from their gaming and binge-watching time to repeatedly die?
Subaru and his gaggle of girls make for, at least, an entertaining watch. I most definitely see where the hype is coming from.
Currently, the series is up to 20 episodes with the next airing on August 22. Twenty-five episodes make up the remainder of the show.