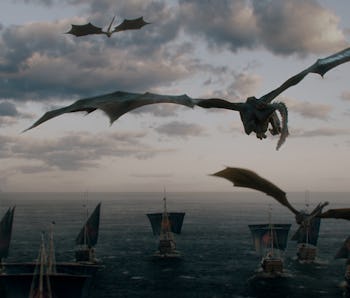 Entertainment
Your Essential Fantasy Reading List for the Rest of 2016
Fall fantasy to look for, from debut novels about pirate magic and returning favorites like Scott Lynch and Seanan McGuire
HBO 
Fall will be here before we know it, and with it, comes an influx of swords, dragons, vampires, and uncertain futures. And we don't just mean the American presidential election; there are a bunch of cool new fantasy books coming out, too. From a new entry in Scott Lynch's Gentleman Bastards series to debuts from fresh authors, here are the fantasy titles worth watching once the leaves begin to turn.
Certain Dark Things by Silvia Moreno Garcia
Bringing back vampires — who have been hibernating in the coffin ever since the early 2000s gave us a case of vampire fatigue — and mixing it with Aztec mythology, all set in Mexico City? Sign us up for this one. Plus, not to judge books by their covers, but you know we all do it. This one is gorgeous. Release date: October 25.
The Queen of Blood by Sarah Beth Durst
Unlikely partners, tree mythology, a magical school, and a heroine who is neither incredulously perfect nor abrasive — all from fantasy veteran Sarah Beth Durst. Release date: September 20.
The Thorn of Emberlain by Scott Lynch
Scott Lynch's Gentleman Bastards series is not to be missed. If you're fascinated by Braavos in Game of Thrones and wish you could spend more time there and also with thieves instead of Faceless Men, this series is for you. The fourth volume comes out September 22.
Timekeeper Tara Sim
Time travel and steampunk Victoriana? Enough said. This new trilogy from a debut author looks very promising. Release date: November 1st.
Scythe by Neal Shusterman
Neal Shusterman's Unwind was the best thing to come out of the YA dystopia boom. If you haven't read it, drop everything and fix that now. He's got a new series that has already been optioned for a movie. Count us in. Release date: November 22.
The Burning Isle by Will Panzo
This debut novel features pirates and magic and mysterious jungles. Did we mention magic and pirates? If that wasn't an immediate win, it's also set in a city that sounds China Miéville-esque. Release date: October 4th.
The Apothecary's Curse by Barbara Bennett
Immortality experiments in Victorian London, featuring alchemy, rivalry, and high drama. Release date: October 11th.
A Darkly Beating Heart by Lyndsay Smith
Gorgeous cover aside, most fantasy limits its frontier to the western world, but this time-jumping story is set in Japan. Release date: October 25th.
Once Broken Faith by Seanan McGuire
Fantasy mastar Seanan McGuire has her tenth October Daye novel coming out to continue building Faerie intrigue. Release date: September 6th.
Vassa in the Night by Sarah Porter
A cover that evokes The Night Circus and a whimsical Russian fairy tale set in Brookyn. Sign us up. Release date: September 20th.
Chasing Embers by James Bennett
If you like modern gritty urban fantasy but you also like dragons — which are typically found in pseudo-medieval fantasy — now you no longer have to chose, because James Bennett is tying the two together. Release date: September 6th.
The Winds of Winter by George R.R. Martin
Just kidding on that last one. It's never coming.