Frank Ocean Hype Shoots 2012's 'Channel Orange' to No. 146
'Boys Don't Cry' isn't even out and people are going nuts.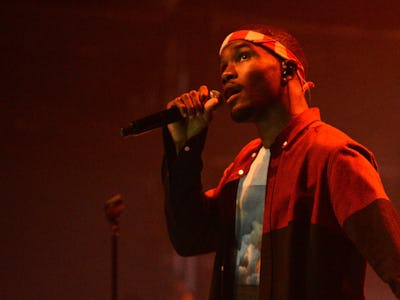 Getty Images / Jason Kempin
After more than three years off the Billboard 200 Chart, Frank Ocean's Channel Orange has ghosted back into our lives at No. 146. The last time his 2012 debut album made the rankings was May 18, 2013, but apparently the hype (and agonizing delay) of his new album, Boys Don't Cry was enough to launch Channel Orange back to bestseller status. In the week ending August 20, Billboard reports that the album — which was nominated for six Grammy Awards back in 2013 — saw a 40 percent uptick in sales (5,000 units) and a gain of 35 percent in audio and video streams, now up to seven million.
Ocean has been teasing us for months with the release of his sophomore album, and many are experiencing fatigue from the prolonged wait.
Ocean's been relatively quiet since the release of his first album, and it seems that some of us are so thirsty for new music that we're revisiting Channel Orange to fill that Frank Ocean-sized hole in our hearts. Though the album has seen a resurgence on the charts, for now it still sits below Simon And Garfunkel's Greatest Hits (No. 138). Let's just hope the rumors that Boys Don't Cry will be released in the next few days are true, so the wait can finally be over.
We thought for sure that Ocean would drop his album last week, when an Apple Music-hosted live stream launched on his website. But all we were gifted for our patience was a man slicing wood with a saw and a brief glimpse of Ocean wearing a David Bowie shirt in an empty hall. Even The New York Times reported that Boys Don't Cry would be released on August 5, along with a video and zine.
Basically, Frank, the world is trying to tell you we'll take bullshit if that's all you've got.