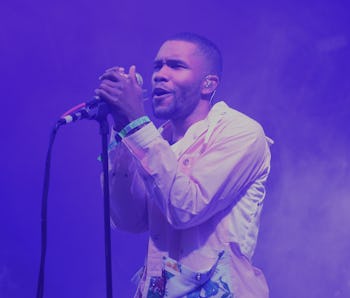 Entertainment
How to Listen to the New Frank Ocean Album 'Boys Don't Cry'
Get ready, because it's finally out on Friday. 
Getty Images / Jason Merritt
The wait is finally (almost) over for a new Frank Ocean album.
Ever since his 2012 debut album Channel Orange skyrocketed to the top of numerous year-end lists, Ocean has been under pressure to exceed expectations on his second album, and also just to release a second album already. Previous comments suggest the new title could be a narrative-driven release, which he described as "bordering on a concept record again."
Boys Don't Cry has been a long time coming. Instead of following the "surprise album release" trend, Ocean has been teasing a new record for years. The follow-up was first rumored for a July 2015 release, after Ocean posted on his Tumblr a picture of himself with two versions of what looked like a tie-in magazine. There were then rumors that the album would be released in November 2016, after a second cryptic teaser was posted, but it proved misleading. Now, all signs point to Ocean launching "Boys Don't Cry" on Friday.
While distribution is still up in the air, it looks like Apple Music is the frontrunner to get Ocean's tracks first. The New York Times reported that Boys Don't Cry will be an Apple Music exclusive for two weeks, after which time it would become more widely available, and Ocean is also said to be planning to distribute an accompanying printed publication at physical Apple stores.
Ocean leant credibility to this idea when his boysdontcry.co website was updated with an Apple Music stream. The teaser site lists an August 4 release date.
All signs suggest that the way to hear it first will be through Apple Music. The service is priced at $9.99 per month, or $14.99 for a family subscription. Students get a discounted individual rate of $4.99 per month for up to four years. Alternatively, if you haven't used it yet, there's a three month free trial for new users.
No Apple Music subscription? No problem. If reports are true, Boys Don't Cry won't be limited to Apple's service for too long. Channel Orange is available on Spotify and Tidal, suggesting Ocean is open to releasing his music on competing streaming platforms.
That would give it a short window of exclusivity, but there is precedent for this. Drake's album Views was exclusive to Apple Music and the iTunes store for two weeks, but got let loose on Spotify and Tidal two weeks later.
There may also be the possibility that the album is available in physical Apple stores. If Ocean is distributing a print magazine through the iPhone seller, it could provide an opportunity for Ocean to sell his album through a different supplier. It would be unconventional, but up until now this has been a rather unconventional release. Either way, it looks like we'll find out on Friday.