Leslie Jones Slayed Her First Day at the Rio Olympics
Leslie Jones arrived in Rio and immediately got to work.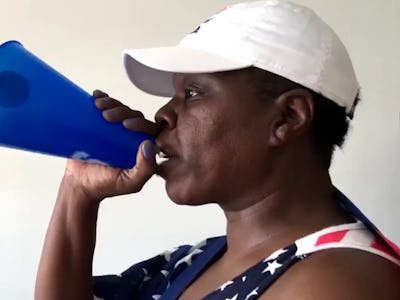 Leslie Jones on Twitter
She may not be officially starting for several hours, but comedian Leslie Jones is ready for Rio. After providing some headline-making Twitter commentary on this year's Olympic games, the Ghostbusters star was invited to participate as an NBC Commentator. And after accepting the job, she's finally in town.
Jones spent most of her day getting used to the Olympic village and meeting adoring fans – which, at the games, includes a huge mix of normal folks, athletes, and celebrities. Jones's personal Team USA motto is "Slay All Day'" and slay she did, jumping right into the fray. Jones is so popular that she was given her own Snapchat sticker.
Worried about catching Zika in Rio? Don't worry. Jones checked the place out for you to make sure it's safe, so take her word for it.
After checking in and getting her credentials, it was off to the Village.
Jones made sure that locals stayed in their lane as she made her way to the Olympics.
She also discovered some of the local flavor.
Then, it was time for her grand arrival, whereupon she speculated on the much-talked-about Olympic Orgies.
Once she was there, Jones beelined for the U.S. Gymnastics team, to whom she's been showing incredible support from the beginning.
Jones also gave fans an insider look at how some of the most iconic Olympic shots are taken:
She buddied up with some top-level Olympians from Team USA almost immediately.
Remember the mention of celebrities?
Despite cheering for team USA, Jones also showed more than enough grace when she felt other talented competitors deserved some recognition:
Jones cheered on the U.S. Gymnastics Team as she watched them win gold and silver today:
Then, she showed off some of her own moves:
She also continued to highlight the best in womens' competitions:
To cap the day off, Jones was on the scene to watch the U.S. swimming team and Michael Phelps.