Leslie Jones is the Best Part of the Olympics
Her Twitter commentary on the 2016 Rio Olympics gives life to the sporting event.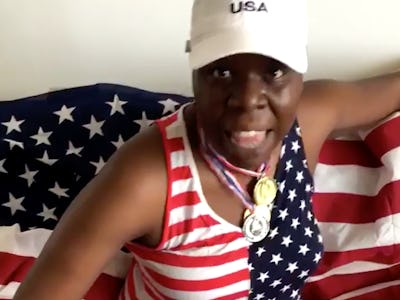 Twitter.com/lesdoggg
Leslie Jones, star of Saturday Night Live and Ghostbusters fame, is providing live commentary on the 2016 Rio Summer Olympics on Twitter. And it's one of the best things about the Olympics so far.
The standup comic and actress is well-known for providing hilarious live-tweet commentaries on television shows like Game of Thrones. And recently she began providing the same witty, live-tweet commentary for the Olympics in Rio de Janeiro, Brazil. The tweets were so well received that NBC Executive Producer Jim Bell invited Jones to Rio to provide even more Olympics commentary and humor.
Since the Olympics began a few days ago, her Twitter account has filled up with videos of her reacting and commenting on various Olympic sports — if you are watching the Olympics alone, maybe pull her up Twitter on your phone. Like most of us, she seems to be most impressed by the oft-overlooked sports like competitive rafting and synchronized diving. Below are some of her most popular bits of commentary on everything from Cycling and Beach Volleyball to Judo and Fencing.
Here's Jones supporting American Tennis champion Serena Williams:
Jones on the mermen-like Olympic swimmers:
But Jones never forgets to ask the hard questions:
Jones echoes the collective U.S. sentiment when an unfortunate crash puts Team USA in the lead:
Jones discovering the secret art of synchronized swimming:
On the uniform differences between men and women's beach volleyball:
No, seriously. What is this?
Jones vocalizing pain empathy as viewers shake their wrists in unison:
Jones is right. Fencing should be a bloodsport:
And of course the fact that every Olympic athlete can probably kill a normal human being:
Thankfully, Jones stayed on Twitter after racist trolls cyber-attacked her for being in Ghostbusters. In July, a campaign of vitriol and harassment from garbage people, mostly following the lead of Breitbart writer and alt-right troll, Milo Yiannopoulos, drove the comedian off the social media platform. The harassment was so bad that Twitter permanently banned Yiannopoulos from the service, which only angered his supporters who viewed the move as an attack on free speech (it wasn't).
Jones, who appeared on Late Night with Seth Meyers, said of the situation, "I know a lot of people came at me with that, 'hey, you messed with freedom of speech,'" she said. "Hey, hate speech and freedom of speech are two different things."
Let's hope NBC arranges a live shot straight from her apartment very soon.