Leslie Jones Will Join the NBC Olympics Team This Friday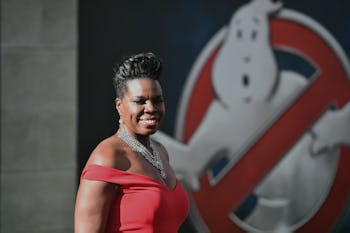 Getty Images / Alberto E. Rodriguez
Actress Leslie Jones, who most recently starred in Ghostbusters, has been live-tweeting the Olympics since the opening ceremony, and following along with her has become a sport in itself on Twitter.
This week, Jones' personal brand of Olympics coverage became so popular on Twitter that and NBC executive invited her to cover the Olympics as a guest commentator for the network — and after some deliberation, Jones has agreed.
With a two hour broadcast delay and restrictions on things as miniscule as the usage of gifs, this year's Olympics in Rio found itself plummeting in viewership after opening ceremonies last week. But Jones was like a light in the darkness, delivering unapologetically hilarious commentary and swinging for the stars after the world tried to bring her down.
After dealing with an attack of targeted racist and sexist harassment on Twitter last month, Jones decided to take a break, returning not long before the games began.
The actress and comedian has been lighting up Twitter with her coverage — which usually include video of Jones along with light written commentary — and colleague, writer and comedian Mike Shoemaker couldn't help but recommend her for the position. NBC Executive Producer Jim Bell officially extended the invitation.
The deal was likely not too hard to work out: Jones is already connected with NBC thanks to SNL, so it was ultimately up to her to decide whether or not she would attend.
After mountains of encouragement (and cautious warnings) from fans, Jones decided to go for it. NBC spoke to Deadline, confirming that the comedian and actress was set to take the chair this coming Friday. "Jones will attend live Olympic events, including swimming, track and field, gymnastics and beach volleyball; meet athletes; and spread her passion for sports and the Olympics on-air and online," said a statement released by the network.
In the week leading up to the big proposal (and even today), Jones' commentary has been comedy gold, breaking thousands of retweets on Twitter and making headlines everywhere.
Jones has been putting special focus on the women's competitions, highlighting the best of Team USA's incredible sweep.
U.S. Gymnast Gabrielle Douglas is a personal favorite.
Like, really a favorite.
But Jones isn't neglecting some of the lesser-known sports, like rowing either.
And her discovery of the hardcore sport of women's rugby was nothing short of magical.
She also cheered for Serena and Venus Williams today:
It seems like Shoemaker and Jones' fans are using the hashtag #RioLeslie to document Jones' incredible adventure, so stay tuned there and on NBC.
Eat that, trolls.