JOB HACKS | LeBron's Yoga Teacher
The founder of #trillyoga talks discovering her own grassroots yoga technique and turning it into a lifestyle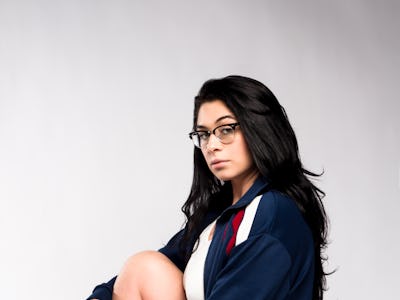 Careers rarely go according to plan. In Job Hacks, we shake down experts for the insights they cultivated on their way to the top of their field.
This week, we spoke with Claire Fountain, founder of Trill Yoga, a fitness and lifestyle brand. Fountain has traveled the world giving workshops on yoga and wellness. Her clients include LeBron James, Rashad Jennings, and Common.
What initially drew you to yoga?
I started yoga when I was 15, primarily for depression and anxiety. I didn't think it was going to be my full-time life's work. After college, I was a food writer; I was just teaching yoga at night. Then I had an editorial job that was not what I wanted to do, so I thought, "I'll take personal training and yoga and all these things I'm certified to do more seriously for a while." It took off from there.
How did you get the idea for your unique style of yoga?
I was never really "the good student." I didn't remember all the chanting and I didn't have the body shape that was marketed to yoga. When most people think "yoga studio," they think "skinny, privileged white women." I was thick and grew up in Jackson, Mississippi. I like to listen to the music I grew up with and don't want to wear matchy little bra tops and bottoms. As free and open as yoga is supposed to be, I would walk in classes and not feel welcome in the way that I thought yoga was when I was younger. I had it on a pedestal as this wonderful place that saves you from the depths of your mind, but I realized that's not always the case. So I felt I could do yoga exactly how I wanted to — whatever shape my body was, whatever music I wanted to listen to, whatever clothes I wanted to wear. I didn't need a big expensive studio.
Social media is a big part of your business. Did that come easily to you, or was it a learning curve?
I didn't expect it or plan it. I just started posting yoga poses showcasing my style and the way I wanted to practice, and that's how I came up with the hashtag #trillyoga. I needed a way to differentiate what I was doing, which was more of a guerilla grassroots approach. Within the last year or two when I started really caring about my audience, I had to learn more about the importance of engagement.
And because you work with professional athletes as well as novices, have you found it challenging to refine your technique depending on who you're working with?
That's something all trainers have to do: modifying and adjusting and making sure what you're doing suits the person you're working with. For any good trainer, they're not giving the same workout program to everybody. They're looking at the people as individuals.
What's been the most challenging part of your career?
That I work for myself. You get all the benefits of setting your own schedule and the wonderful sense of accomplishment, but at the same time, everything falls on you. You give up a lack of stability and you give up some of the security to have more freedom.
And what's the most rewarding part?
Being able to live a life I don't know that I could have fully imagined when I was a little girl growing up in Jackson, Mississippi. I just knew I wanted to get out and be a writer and possibly live in the city. I could have never imagined it would take me all the places I've been and all the circles I've been in, because this isn't something I ever thought about. To be around that is really rewarding, but just to be able to show people what's possible is also rewarding.
When you go on tour, what does that look like?
It's not just a yoga class. It's three to four other influential people in their respective fields and we talk about wellness. I think wellness needs to have a different face. The minute I say, "I work in wellness," I sound like the most boring person. People need to see that it can take on many different shapes and avenues. We're all trying to get to the same point: being better versions of ourselves and feeling the best we can. So it's a panel where we get to share stories and talk with the people there with me. Then the rest of it is a yoga class.
Do you think there's progress being made in the conversation on wellness?
I think so. The good thing about social media is it has given a place for people to see wellness in different forms. You can see a different view of yoga here that may not be in every mainstream magazine or video. It's the same with healthy eating. Maybe you see pages that make you feel guilty you don't like chia seeds, but maybe you see other pages where it's like, "This person has an accessible, relatable life and they're eating healthy things." It's making headway. But we still have a ways to go.
What advice would you give a young person who wants a similar career path?
You have to have a strong enough sense of self to take things in but not to always think they're gospel. Expose yourself to as much as you can — when I was younger, I would take yoga classes everywhere I went. You get to see so many different teaching styles and trends. Even if it's learning what you don't like, it'll help you hone in on what you do like.
I'm working on a collection of writings that speak to 16- to 24-year-old people coming into this workforce, and I talk about how if you're not an entrepreneur, you can still be passionate and purposeful. Don't believe everything you see on social media, and don't use it as a realm of comparison for how well you are or aren't doing. Make sure your definition of success is your own and not someone else's.
This interview has been edited for brevity and clarity.