Rascally Capybaras are All over the Olympic Golf Course
We should let them play instead.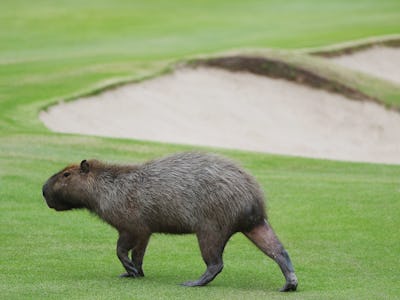 Getty Images / Scott Halleran
Concerns ahead of the Rio Olympics ranged far and wide, including the Zika Virus and human-rights issues that still rightfully sour Brazil's name. Invariably, some things are overlooked when you're running an overpriced world event –that often includes local wildlife. Enter the Olympic Capybaras.
The newest team to join the games? A group of local capybara who recently wandered onto the golf courses at the Olympics. The problem wasn't completely unexpected, says the International Olympic Committee (IOC), but it was enough to cause alarm ahead of the competition. Joining the capybaras was an array of local animals, but it was the large rodents (the largest classified rodent in the world, by the way) that most densely populated the course.
The numerous capybaras call the golf course home, and the IOC has no plans to forcibly removed them. There are about 30-40 of them inside the course perimeter, "but they live here and we play golf here; we co-exist," said PGA Director of International Agronomy Mark Johnson. The IOC says that they've hired handlers who are herding the animals away from the course during games.
For the most part, it seems as though golfers and fans have no problem with these locals occupying the field.
Some even leapt to the defense of the animals:
Others are simply finding them about town, scavenging for food and lazing around.
They're the perfect golf audience, and the complete opposite of vuvuzelas.
More still wished they were there, no doubt to pet a capybara (please refrain from doing this) and listen to Leslie Jones's commentary:
At the end of the day, how could anyone be mad at these cute, chill creatures?