The Four-Disc 'Force Awakens' Blu-Ray is for Super-Fans Only
Lucasfilm is releasing J.J. Abrams's movie with brand new special features, but they aren't for everybody.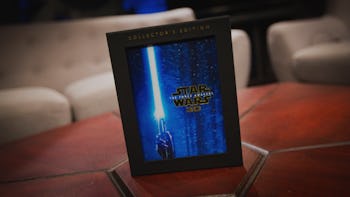 Lucasfilm
Never ones to not capitalize on a Star Wars fan's propensity for buying copies of the same movies over and over again, Lucasfilm just announced that its releasing a brand spanking new home video release of The Force Awakens just before the first standalone Star Wars movie, Rogue One, hits theaters later this year. The new four-disc set — that's on Blu-ray 3D, Blu-ray, Digital HD, and DVD — officially called the "3D Collector's Edition," will jump into hyperspace right into stores on November 15.
That's all well and good, but if you already own the standard edition released this past April is it worth double dipping? The new set has some nifty new collectible packaging, and includes all of the special features from the previous release like the feature-length documentary Secrets of The Force Awakens: A Cinematic Journey. But that's not all.
They got around to adding some new supplements to force you to tear your hard earned cash out of your wallet. The best is probably a new full commentary by director J.J. Abrams that the official press release promises will provide some insight into "the creative and complex choices made while developing the first film in the new Star Wars trilogy." Here's what else we're working with:
Foley: A Sonic Tale – Foley artists, consisting of old pros and new talent, unite to bring the world of Star Wars: The Force Awakens alive through the matching of sound to action.
Sounds of the Resistance – Hear how the epic sound design of Star Wars: The Force Awakens moves the Star Wars legacy forward.
Deleted Scenes – View never-before-shared scenes that didn't make the films final cut.
Dressing the Galaxy – Costume Designer Michael Kaplan reveals how the costumes of the original Star Wars movies were re-envisioned for a new generation.
The Scavenger and the Stormtrooper: A Conversation with Daisy Ridley and John Boyega – The two new stars share the thrill of working together on the adventure of a lifetime and becoming part of the Star Wars legacy.
Inside the Armory – Take a fascinating tour through the design and creation of the weaponry in Star Wars: The Force Awakens.
Knowing Lucasfilm, there will probably be more digital bonus content depending on where you buy the new set. But, as for the new disc features, it seems like this is for Star Wars super-fans only. Do casual fans really need to find out about foley artists? Probably not. But if the Sounds of the Resistance feature has some behind-the-scenes looks at Bill Hader and Ben Schwartz's BB-8 performances then this thing is a necessary expense for everybody.