DC Traps The Gang In Exclusive 'Scooby Apocalypse' Preview
In "Fur and Fangs," the Mystery Gang is holed up in a ghost town while they lick their wounds from the last adventure.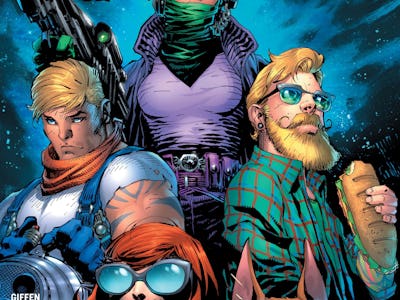 Getting your fill of Great Danes eating Scooby Snacks is never hard, whether you binge the old 1969 cartoon or watch the live-action movie. But if you're more in the mood for comics and monsters that aren't just greedy people hoping to scare people away from their fortune, then Scooby Apocalypse is for you. And we have an exclusive preview of Issue 4.
Last we left off with the gang, they were retreating from the monster-infested underground base thought to be their haven from the apocalypse, but they're still just chilling in a ghost town while they recover from their ordeal, hoping to lay low before to go out again. Of course, nothing is ever that easy.
In this newest issue by Howard Porter, Keith Giffen, and J.M. DeMatteis, Daphne and Velma discuss the nanites and rummage around the Mystery Machine while the boys are out cold. Unfortunately for them, a monster with slick-backed hair lurks around the corner and is about to cause some mischief, but Scooby is feeling fierce, so they should hopefully be good.
Scoopy Apocalypse #4 will be available for purchase on August 17.