Can Bon Iver, Indie's Most Hated Man, Ever Shush the Haters?
Justin Vernon's new album, premiering this weekend, will take him one step further from the stigma surrounding him.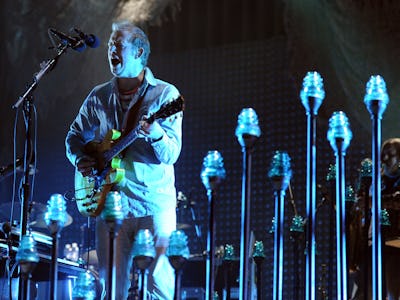 Getty Images / Kevin Winter
In 2012, Bon Iver, aka Justin Vernon, announced he was going to hang it up as a while — at least, functioning under that name. Subsequently, he turned out to be a large part of 2013's Yeezus, and on outtakes from The Life of Pablo, and on errant collaborations — most recently, a single with one of his most popular stylistic successors, James Blake and a popular track with Francis and the Lights, which also features Kanye.
Unfortunately, even Kanye's claims that Vernon is his "favorite living artist" can't save him from his fervent haters. As his star rose following the surprise success of his 2007 backwoods music-diary For Emma, Forever Ago — and became more and more influential, and festival-ready — he increasingly became a target for indie-rock-weary pundits: the worst kind of Ur-White-Man-With-Beard. VICE called him "just a bro with a headband" whom people had somehow confused with a musical genius; The Houston Press called him "The Clown Prince of Hipster Doofuses" in 2012; L.A. Weekly named him/them, even over the likes of MGMT and Death Cab, the #1 worst "hipster band" of all time.
With all of this backlash — much of which seems to have come in the wake of his 2011 self-titled album, with its hints of new-wave and windswept post-rock — it feels like little wonder that Vernon opt to recede into the shadows for a few years. He's played shows periodically, and now runs his Eaux Claires Festival in his home state of Wisconsin. The second installment l is coming up this weekend, and the word is — according to Pitchfork — that Vernon and his band will be doing a "live" premiere of a new album at the festival.
The prospective title seems to be 22 Days. In addition to cryptic social media posts and a strange mural in Brooklyn, the band is promoting the release with a flickering teaser trailer, set to a moody snippet dominated by pitch-shifted, a cappella vocals:
To Iver detractors, these hints will only give fuel to "Fuck this would-be arty douchebag" sentiment. To fans of Vernon's ever-shifting, ever-complicating musical vision, it will be cause for rejoicing. It's nice to see Vernon doing a rollout on his own terms, rather than partnering with Apple Music, TIDAL, or another corporation to create scalable, fartsy hype (and yes, I am making fun of Frank Ocean).
Where Vernon's head at is musically at the moment remains to be seen; its by no means clear. But from his first AutoTune experiments on 2009's Blood Bank EP, to the Talk Talk-y smooth textures of 2011's self-titled, to the enormous croon-chorales he's built for Kanye, to his compelling experiments with avant-yachters Gayngs and crossover-classical ensemble, Volcano Choir we can assume it will be distinctly Vernon's vision, but not too much anything we've heard before.
There are plenty of great bands throughout history who have inspired a lot of Busch-league craptastic offspring: Led Zeppelin, Little Feat, Radiohead, and — that's right — the Grateful Dead. With Bon Iver forging onward — as opposed to disappearing, as he threatened to do four years ago — perhaps he will be able to cement the legacy his modest amount of previous work has hinting toward: one of the most visionary and nuanced "indie" singer-songwriters of the decade.
Sure, he's the Crown Prince of a certain brand of microbrew-touting douchebag, but to be Crown Prince or Princess of anything, you have to have the proverbial juice — on some level. He's the Crown Prince because he's the best of the bunch — the one of which others are just a pale imitation.
Once we detach Bon Iver from the perceived asshole culture surrounding him, hopefully the largely-unerring quality of his recorded catalogue will be able to stand on its own. Perhaps, whatever Vernon looses on Friday will have the capacity to stave off at least some cynics.