This 'Arrival' Teaser Shows Denis Villeneuve's Heady Alien Invasion
The 'Sicario' director's new movie, ahead of 'Blade Runner 2,' will rope in fans of 'Close Encounters' or 'Contact.'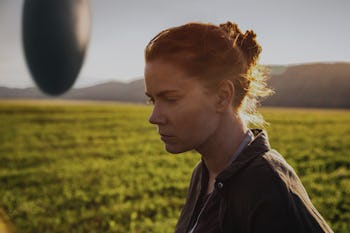 Jan Thijs/Paramount Pictures
French-Canadian director Denis Villeneuve is on the verge of his biggest moves to date, after proving that he could deliver a zeitgeist multiplex hit with Sicario this past October. Now, he's going the route of the sci-fi thriller, with Blade Runner 2 supposedly in the pipeline for late next year, and for this fall, a new alien-occupation slow burner — seemingly for fans of turn-of-the-millennium-reminiscent speculative epics like Midnight Special and Interstellar.
In the film, Amy Adams plays a "language specialist" who is assigned to helm communication with an alien race, hovering near the Earth in egg-shaped ships. Do they come in peace? Jeremy Renner — who plays some kind of alien-math expert — believes Adams is the only one who can figure out how to communicate with them most effectively, and prevent — we can assume — the apocalypse, ET-run world dictatorship, etc.
Watch the teaser (the trailer for the full-length one coming on the 11th) below.
The film is a liberal adaptation of Ted Chiang's heady, psuedo-scientific 2000 short story (again, shades of pre-Y2K fare like Contact here) called The Story of Your Life. The award-winning story deals with aliens with a complex mode of communication which affects their view of time, space, and other things. In science, the preferred term is "linguistic relativity."
It's heady fare, and it will be fascinating to see how a director like Villeneuve makes this Hollywood-palpable, and whether he manages to make it a little more comprehensible than Interstellar. Sicario was a beautiful film — if a little one-dimensional otherwise — and it will be fascinating to see if Villeneuve can take his career to the next level with this intriguing, nu-Close Encounters blockbuster.