Dwayne Johnson Says Unnamed 'Fast 8' Co-Stars are "Candy Asses"
We definitely smell what the Rock is cooking on his social media pages.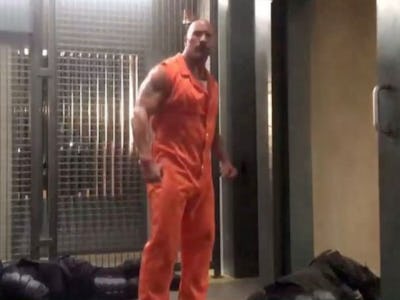 To mark his final week of shooting Fast 8, Dwayne Johnson called out a few unnamed male co-stars who he sees as "candy asses. No, everything doesn't seem right with the man kinda-sorta formerly known as the Rock.
"My female co-stars are always amazing and I love 'em," Johnson writes in an Instagram post. "My male co-stars however are a different story. Some conduct themselves as stand up men and true professionals, while others don't. The ones that don't are too chicken shit to do anything about it anyway. Candy asses. When you watch this movie next April and it seems like I'm not acting in some of these scenes and my blood is legit boiling — you're right."
Is the Rock just trolling us by trotting out his old WWE "candy-ass" catch-phrase? Definitely. This is definitely what's happening. That does not make it any less enjoyable, though.
Johnson, maybe the one person besides Vin Diesel responsible for the reemergence of the Fast series of movies as one of the biggest franchises, calls himself "franchise Viagra." And he boasts one of the best roles in these ridiculous movies since his debut in 2011's Fast Five.
For the upcoming eighth Fast film, it seems his character — Agent Luke Hobbs — is undergoing a mysterious change. Johnson's previous social media photos have hinted that he's turning into a sort of vigilante biker who most likely will end up in prison. Hell also lead a haka at his movie daughters soccer game.
Now wrestling fans will love to hear Johnson resurrecting an old line used in his WWE days, in which he'd use frequent insults like "roody-poo candy ass" or "jabroni" to call out his opponent and inevitably lay the smack-down on them when they least expect it. But to others it's a surprising declaration from the gentle giant. Who could piss off the Rock so much that he'd use his last week on the film to remind them that his "blood is legit boiling"?
Yikes.
Johnson obviously has no beef with Universal or his female co-stars, like franchise newcomers Charlize Theron or Helen Mirren, so who is the "candy ass" that Johnson despises? Is it Dom Toretto himself, Vin Diesel? Back when he joined Fast Five he had this to say:
I've known Vin for a long time an we've always talked about doing something together, but as long as it was right and wasn't forced. This felt like the right opportunity to create a formidable adversary for him and one that was believable and that we could get on screen and rumble and dance and have some fun."
Maybe working with Diesel isn't so fun anymore, but we wouldn't count on it. We have our eye on another franchise newcomer, Scott Eastwood, as the one drawing Johnson's ire. Weirdly enough, Eastwood used the phrase "candy asses" in his recent controversial dual interview with his dad, Clint "Pussy Generation" Eastwood, and chided his Fast 8 co-stars for immediately going back to their trailers after takes while Eastwood stayed on-set to learn.
Still, Johnson says he's angry at one of his "co-stars" and everybody knows Scott Eastwood isn't a star, so the plot thickens.
Either way, Johnson is a master at selling his image and the image of the Fast franchise, the eighth film of which will probably make $8 quidjillion because people will want to find out who the Rock is really trying to destroy during fight scenes instead of acting. It would take a journalist with the fortitude of someone like Edward R. Murrow to get to the bottom of what is possibly the biggest rift and/or method acting opportunity in a movie series that features a team of elite car racers-turned-special-ops-agents.
Find out for yourself who the Rock wants to destroy when Fast 8 hits theaters on April 14, 2017.