Amazon Introduces Its First "Prime Air" Plane
At a press event on Thursday, Amazon revealed another method for shipping its wares.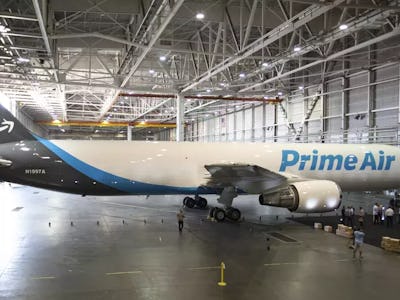 While the topic of Amazon's drone delivery service remains testy and spooky for certain folks, one thing is for certain: the company, founded in 1997, has quickly become an everyday part of the modern American lifestyle. With that in mind, being able to control air space has always been a primary goal of the company, and today, Amazon took a step closer to that becoming a reality.
At a Boeing hangar in Seattle on Thursday, Amazon revealed the first Prime Air aircraft, a Boeing 767 owned by Atlas Air that has been converted into a freighter for Amazon. The company plans to launch a small fleet of their own planes in order to speed up delivery that would normally take much longer on commercial shipment crafts.
"We have the ability, with our own planes, to create connections between one point and another point that are exactly tailored to our needs, and exactly tailored to the timing of when we want to put packages on those routes — versus other peoples' networks which are optimized to run their entire network," said Amazon's Senior Vice President of Operations, Dave Clark. "We add capacity, we add flexibility and it gives us cost-control capability as well."
The aircraft on display for the press today was called the "Amazon One," tail number N1997A, which is both a prime number and a callback to the year Amazon went public. The planes are intended for deliveries from the East to West coasts of the United States, according to Amazon officials. The plane is etched with the Amazon "smiley face" and has a logo on its bottom side, lest anyone forget who owns that plane while it soars overhead.
Amazon's full "Prime Air" deal is split between two contractors, Atlas, and the Air Transport Services Group, which are expected to produce a total of 40 planes for the effort.