Donald Trump's Chief Fundraiser Also Paid for 'Suicide Squad'
Steven Mnuchin enjoys investing in clowns, apparently.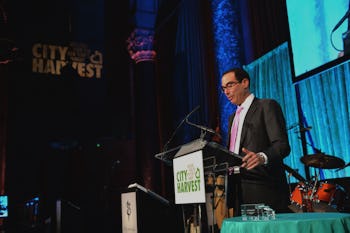 Getty Images / Andrew H. Walker
The internet is hot with anger after mixed reviews of Suicide Squad have once again cut a divide between some fans and critics. Not unlike the weeks following the release of Batman v Superman: Dawn of Justice, criticism of DC's latest foray into a blockbuster universe has been mixed and less-than-ecstatic, which has somehow led some of those who enjoyed the film to believe that anyone who disliked the film was obviously paid by a rival film studio to pooh-pooh the antihero flick. A similar kind of tunnel vision-generated rage has been growing like a heavy storm over the Presidential campaign, and now, two giant pillars of controversy have been revealed to coincide with one another — somewhat, at least.
Donald Trump's Chief of Fundraising, Hollywood exec Steven Mnuchin, had a hand in making Suicide Squad into a reality, as an executive producer.
For some, this may come as a shocking reality — and given Mnuchin's previous roster of investments, which include Mad Max: Fury Road, his gung-ho love for Trump is a confusing, slippery slope. Mnuchin hasn't yet commented on Trump's latest attack on the family of a fallen Muslim-American soldier, but he has confirmed that he's completely behind the xenophobic Presidential candidate. When asked about Trump's comments toward the Khan family, Mnuchin said: "This is all stuff that the press is just making up and talking about. I was at the campaign headquarters all day for the last two days. People could not be more excited about what's going on."
Mnuchin's past credits also include investments in films such as American Sniper and Batman v Superman. "You'd be surprised how many secret Republicans there are in Hollywood!" he told Showbiz 411 this past week. Indeed, Mnuchin is part of a long list of Republicans that still support Trump, which also includes previous Hollywood legend and Senior Spiritual Chair Whisperer Clint Eastwood. Looks like Mnuchin's in great company.
Suicide Squad is in theaters now.