Listen to 'No Man's Sky's Space-Trippy Official Soundtrack
This is the best kind of spoiler.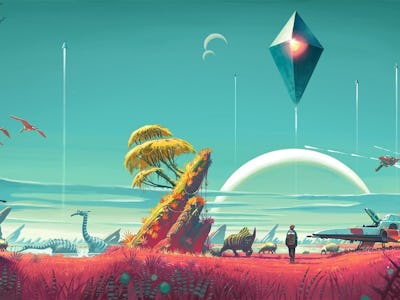 futurecdn.net
Hello Games won't release No Man's Sky, its much-hyped space-exploration game until August 9th — but in the mean time, we already know the game will sound like. 65daysofstatic, a self-described math rock band based in the United Kingdom, casually released their official soundtrack for the game on YouTube today, and it's a delight.
The release of the games soundtrack in advance of No Man's Sky itself is an understandably huge deal. Ostensibly, No Man's Sky will allow gamers to chart their own unique course through the procedurally-generated galaxy. As players explore the various lifeforms that have been wrought thanks to Hello Games' complex algorithm, the game's synth-heavy score will be forever at their backs, accentuating the various highs and lows that the game has to offer. In short: the soundtrack has an immeasurable influence on how gamers will ultimately perceive the moment-to-moment gameplay.
Thank God it kicks ass.
65daysofstatic has been around for 15 years, and its expertise composing instrumental electronica is in full effect in the No Man's Sky OST. The score veers freely between aggressive guitar rock and more contemplative tonal pieces that play like subdued bits of Philip Glass. The soundtrack is remarkably cohesive in it's final version, which plays like an expansive soundscape that's happy to explore both whimsy and darkness with equal enthusiasm. Even if the music weren't attached to one of the most anticipated games of the year, it'd still be something worth listening to.
If the game's official soundtrack is any indication of the overall quality of No Man's Sky, then there's a lot to look forward to come next Tuesday, when the game comes to PS4 and Windows.