Watch the Smithsonian Lovingly Restore the U.S.S Enterprise
Artists, conservationists, and even veterinarians helped rebuild "Star Trek"'s original model.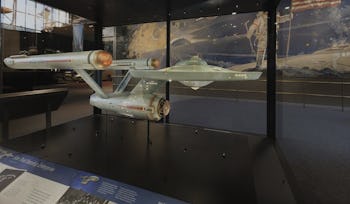 In the final scenes of Star Trek: Beyond the U.S.S. Enterprise is reborn, restored from it's explosive demise earlier in the film. And now, its restoration has happened in real life.
A team of conservationists, artists, and even veterinarians mirrored the on-screen reconstruction of the Enterprise on a slightly smaller scale, giving the original 11-foot studio model from 1967s Star Trek a complete overhaul. The entire process took two years, but the team just finished the final repainting. The team released a video detailing the exhaustive process to celebrate the Enterprise's return to the Boeing Flight Gallery at the Smithsonian's National Air and Space Museum. It turns out, the classic 60's Enterprise had a way more detailed paint job than anyone thought — the details just didn't always show up on grainy old-school TV screens. But getting that level of detail wasn't easy — the Smithsonian team hired expert painters, artists, and even a couple of veterinary technicians to restore the model to its former glory.
Usually, veterinary technicians don't work on starships. So why would Peter Flowers and Marilyn Small, the Smithsonian's veterinary technicians, come in to help nurse a giant model back to health? Is the Enterprise actually alive? There would be precedent: The ship has come to life a few times in the course of the franchise, and in the first Star Trek film ever it's mistaken by another alien as a life form of its own.
The reality is that the restoration team determined the model was so fragile they needed to x-ray the interior of the Enterprise to ascertain the structural damage to the "ship." Enter Flowers and Small, vet techs and x-ray experts.
After they'd scanned the ship's innards, the rest of the team jumped in. Industrial Light and Magic's John Goodson and Kim Smith of Creature Art & Mechanics Digital Pulse also pitched in to help to the Smithsonian team led by Malcolm Collum. Collum enlisted Margaret Weitekamp, Flowers, Small, and countless others. Bottom line: a lot of love went into bringing back this starship.
It's not the first time the Enterprise has gotten a touch up. Richard C. Datin Jr., Mel Keys, and Vern Sion built the first model in 1965, using Matt Jefferies's original design from five years earlier. Since then, the ship has gone through three other restorations at the Smithsonian. However, this new restoration is easily the most comprehensive work to date and will ensure the ships stays looking sharp for another 50 years to come.