Xiaomi's First VR Headset, the Mi VR Play, Is Dirt Cheap
Step aside, Google Cardboard, there's a new cheap headset around.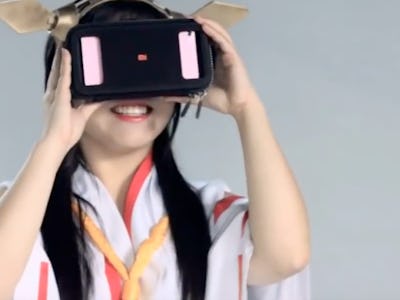 Xiaomi
China-based technology giant Xiaomi has already announced plans for cheap drones and cheap laptops this year. On Thursday, it announced the latest addition to its portfolio of budget tech: a virtual reality headset.
The company unveiled the headset — compatible with any smartphone with a screen between 4.7- and 5.7 inches — and, well, it's a lot like Google's Cardboard headset. This is no surprise: Its drone is a lot like the popular DJI Phantom and its laptop a replica of the Macbook Air. The VR headset is designed to work with most phones, and is meant to help Xiaomi make virtual reality more popular in China.
That's where this Mi VR Play comes in. Xiaomi is offering the device to beta testers for a whopping $0.15 — that's less than basically anything else money can buy. While the company hasn't revealed how much the Mi VR Play will cost when it's available to the public, it's a good bet that it's still going to be pretty cheap.
This is a return to form on Xiaomi's part. Despite its surprisingly expensive gaming laptops, the company is known mostly for making good products that just happen to have price tags much lower than the competition so it can entice as many shoppers as possible.
Competing on price could be the key to making a new virtual reality headset viable among the masses. The true cost of running the $599 Oculus Rift is more like $1,500; even the cheaper PlayStation VR costs $400 and requires a console that costs around $350.
Google recognized this with Cardboard, so it partnered with the New York Times to make the virtual reality headset free to the newspaper's subscribers. Xiaomi could do something similar with Mi VR Play or, if it keeps the price near where it's at now, it'd be cheap enough for anyone to buy.
That could change by the time Mi VR Play is available to the public, and who knows whether or not Xiaomi plans to bring the device to the United States. But the trend of making virtual reality experiences available to anyone — rather than just the people with hundreds of dollars to spend on unproven devices — is still exciting because it means more people will be able to experience the future.
Or at least they'll be able to see if using the headsets will make them sick without having to spend obscene amounts of money for the privilege. Either way, it's easier to see virtual reality going mainstream with 15-cent devices than with rigs that cost around $1,500. The former is within basically anyone's grasp; the latter is restricted to a select few.