The BBC's New VR App Will Stream Rio 2016 Live
360 degree sporting action, straight to your eyeballs.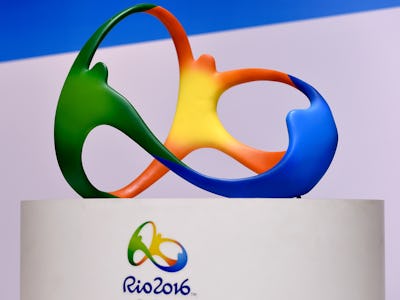 Getty Images / Buda Mendes
Can't get enough Olympic action? The BBC has announced it will allow viewers to strap their phones to their face and place themselves right in the action, with an experimental Rio 2016 broadcasting service. Every day, the service will broadcast 360-degree virtual reality footage of an event, totaling 100 hours footage, plus daily highlights packages.
Starting Friday, Android and iOS users with a smartphone-powered VR headset will be able to watch through the BBC Sport app. The service will also work on the Samsung Gear VR, but the new one with increased viewing angles won't ship until August 19, two days before the closing ceremony. Viewers can also use their computer to watch via the BBC Taster website, manually moving the picture around the stadium.
"This is a hugely exciting next step in our 360 and virtual reality experiments," said Will Saunders, editorial lead at BBC Taster, in a statement. "There's huge potential for immersive video in sport coverage, as well as many other genres, and we want to explore that potential directly with audiences. That's why we experiment out in the open, so people can tell us what works, what doesn't and whether theres an appetite for more. We can't wait to hear what people think."
Unfortunately, sports fans outside the U.K. will have to find other ways to get their VR on. The smartphone app is only listed in U.K. app stores, and the BBC confirmed to Inverse that it will be geo-blocking viewers from outside the country.
There's plenty of ways to watch from elsewhere, though. American readers can use NBC's streaming service to watch 85 hours of sports - only problem is, it's Samsung Gear VR only. Canadian readers will be able to stream several VR events via CBC Sports, including track and field, beach volleyball, and the opening and closing ceremonies.
The Olympic Broadcasting Services (OBS), which provides the "world feed" to local broadcasters, is pushing a number of new technologies for this year. Alongside VR, the OBS is working with NHK to provide 130 hours of 8K coverage for viewers in Japan. The service is also expanding its second screen enhancement service, so local broadcasters can provide extra content for smartphones where suitable.
"The BBC delivered the first truly digital Olympics for London 2012 and we've continued to develop and improve our digital service ever since," said Justin Barritt, executive product manager at BBC Sport, in a statement. "Now, we're pushing the boundaries once again to bring people closer to the action than ever before."