A Hacker Has Stolen $72 Million Worth of Bitcoin
The cryptocurrency lost 20 percent of its value in an afternoon.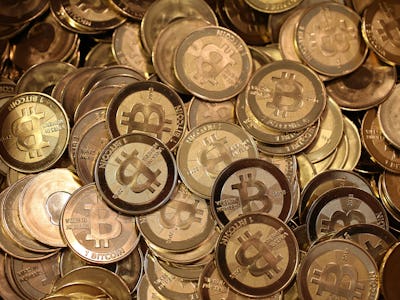 Getty Images / George Frey
An estimated $72 million worth of bitcoin has been stolen from Bitfinex, which contributed to the cryptocurrency's 23 percent drop in value on Tuesday.
Bitfinex has not revealed who's behind the theft or how it happened. All it's said is that 119,756 bitcoin was taken and that it had to temporarily shut down its service to prevent its hacker from stealing even more from its customers. It's not clear when the service is expected to resume trading or how many customers were affected by the hack.
"We are taking this necessary accounting step to normalize account balances with the objective of resuming operations," Bitfinex's managers write in a blog post. "We will look at various options to address customer losses later in the investigation. While we are halting all operations at this time, we can confirm that the breach was limited to bitcoin wallets; the other digital tokens traded on Bitfinex are unaffected."
Bitfinex likely became a compelling target because bitcoin recently experienced the longest period of growth since the 2013 boom. Better to hack an exchange when people are rushing to join the cryptological gold rush than to wait for the market to correct and reduce the value of the stolen goods.
That correction is happening now. Bitcoin's value tumbled 23 percent on Tuesday. The reasons vary the "halving" that will cut the amount of bitcoin received when someone "mines" the currency is one contributor — but Bitfinex's disclosure of the hack also contributed to the swift drop in valuation.
This is far from the first time cryptocurrency has been stolen. Ethereum raced to recover $53 million worth of its eponymous, bitcoin-like cryptocurrency in July. Mt. Gox was hacked several times before it shut down.
But that doesn't change the fact that bitcoin enthusiasts have had their wallets — which they filled by spending real money on the cryptocurrency — emptied. Bitfinex has pledged to "address customer losses later in the investigation" but it hasn't revealed exactly what that means. It's also reporting the incident to law enforcement so it can get the government's help in figuring out who robbed it.
Of course, it might help if the law was clear about whether or not bitcoin counts as money. Try explaining to a government worker exactly how your company called Bitfinex had a bunch of bitcoin stolen. It wouldn't be surprising if they said you were lucky not to have real money stolen from your bank account.