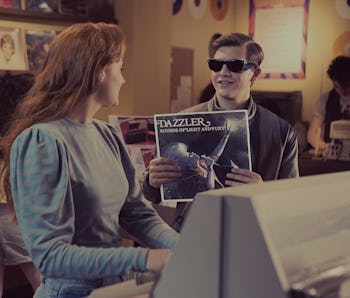 Entertainment
'X-Men' Artist Didn't Know His Art Was in 'X-Men Apocalypse'
He was not dazzled by the treatment of his work.
20th Century Fox
There was a brief murmur of excitement when rumors started circulating that Taylor Swift would make a cameo as the mutant Dazzler in Bryan Singer's X-Men Apocalypse. The rumor turned out to be untrue, but image that started the rumor is now embroiled in a bit of controversy.
The rumor began when Sophie Turner (who plays Jean Grey in the film) posted an Twitter photo of a scene from the movie featuring her character and Tye Sheridan's Cyclops looking at records at a mall. The album that Sheridan is holding features Dazzler, a mutant pop-star who can control explosive energy that sparkles. The Twitter post was quoted with an allusion to Taylor Swift's album 1989, hence the rumors.
While Dazzler never appeared in the film, the artwork the film featured is an actual cover designed by veteran X-Men comic artist Bill Sienkiewicz for an actual Dazzler comic cover. The problem was Sienkiewicz was not informed of the film using a cover that he drew for Marvel comics.
This happens too often in the creative community, and isn't all that surprising. The problem was exacerbated however when at San Diego Comic-Con, Fox took pre-orders for X-Men Apocalypse on blu-ray, and offered a mocked up vinyl cover of Sienkiewicz' Dazzler art as giveaways. Again, without even mentioning or attributing the work to the artist.
Sienkiewicz released a statement explaining how he found about his artwork being used in such a way, and his initial reactions to it:
So…. 20th Century Fox was offering this Dazzler 12 in. album at SDCC in connection w X-Men Apocalypse digital release. I actually found out about it at the con when people started coming up to me in increasing frequency for signatures.
This practice is hardly unusual standard operating procedure for corporations. Even so, it still rankles. I'm one guy. Ive been doing this comic-book thing for years. I'm aware most everything is Work-Made-for-Hire. Still, I received no prior notification (a common courtesy), no thank you ( ditto), no written credit in any form whatsoever either on the piece or in connection with the premium, absolutely no compensation and no comp copies of the album.
It's like two losing trifectas wrapped in an altogether indifferent f-ck you.
He continues to say that in the end he didn't march on over to Fox's booth to "cause a scene", as he merely would have been venting to a group of Fox volunteers who probably had no idea of either the artist or the situation. His whole statement reads as a resignation to the whole ordeal, but how Sienkiewicz would have still appreciated a "thank you" from Fox.
In whole, his statement is reserved and thoughtful to both the creative community in which the plundering of artwork and assets is common, and to attendees of comic-con who only wanted to be a part of the community they love. He even acknowledges how strange it would have been if a man not super famous within the comic book art community would have appeared if he suddenly made a ruckus.