10 X-Men Who Should Appear in Films After 'X-Men: Apocalypse'
The X-Men Cinematic Universe just keeps growing, so we're gonna need some new players.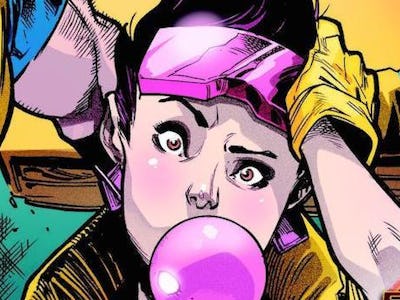 Marvel Comics
When 'X-Men: Apocalypse' hits theaters this week, it will introduce brand new mutants like Psylocke and Jubilee into Fox's ever-growing X-Men universe. It's also going to recast previously adapted mutants like Cyclops and Jean Grey. Now with another franchise in Deadpool, and the continued (but less likely) chance of a solo Gambit movie, the X-Men roster is expanding at an explosive pace.
Luckily there are still, literally hundreds of astonishing X-Men Fox could pull in for future installments, whether it's in a new X-Men, Deadpool, or Wolverine movie. Here's a list of ten mutants that could definitely fit into the ever twisting X-Men cinematic universe.
Fantomex
The Gambit movie seems to have stuttered a bit, but that's not to say audiences should be denied a charming, French-accented mutant. Fantomex is a French thief who merged with a sentient spacecraft named EVA. Together, the two gallivant around in one body, claiming to be Europe's most successful mutant criminal. Fantomex would be a welcome bit of dashing humor if Gambit fails to reappear on the big screens any time soon.
Mr. Sinister
Don't let his birthday party-magician name fool you. Mr. Sinister is one of the most powerful and popular X-Men villains. A 19th century London scientist fascinated by mutant evolution, he was granted immortality by Apocalypse along with a pale new look. Since then, he's had his hand in nearly every major X-Men conflict to date. With his charisma and frankly over-powered abilities, he could be the perfect step-up after the X-Men (presumably) defeat Apocalypse.
Legion is Charles Xavier's mutant son who has the ability to change through hundreds of multiple personalities each with their own mutant powers. Of course this causes him to be a bit unstable and host to several personas who are in fact evil. He might be a little tricky to portray visually as his powers manifest themselves a little crazily, but considering X-Men's ever confusing time-travel shenanigans, introducing Charles's alternate reality offspring into the cinematic universe should be no problem.
Cable
We pretty much know that Cable is going to be in the next Deadpool movie. Even without any official confirmation, the success of Deadpool should open Fox up to let the crew use the merc's most popular ally. The son of Cyclops and Jean Grey, Cable comes back in time to save other mutants from extinction. At some point, Cable partners up with Deadpool and the two mutants, who are like night and day in temperament, go on to have the best buddy cop adventures in X-Men comics.
Magik
More than just a mutant, Magik is Colossus's younger sister who comes into contact with the demonic forces of hell to gain supernatural abilities. While some of the mystic characters that grant Magik her powers like Doctor Strange and Dormammu might fall under Marvel's cinematic umbrella, complicating her appearance in the films. Magik herself should okay however, and to see her fight alongside her brother in a new X-Men movie would be fantastic. Did I mention she wields a giant magic sword?
Domino
Another Deadpool regular who will probably make an appearance in Deadpool 2, Domino is a mutant mercenary whom Wade sometimes works with, sometimes fights with – and sometimes goes out with. She has a power that lets any potential bad luck scenario turn in her favor, and this usually plays out to Deadpool's frustration. Say a building is collapsing, well, Domino's power lets all the debris avoid her, and probably hit Deadpool as a result of his assumed proximity. It should make for some great comedy if she appears in the sequel.
Tempus
Tempus is a recent addition to the X-Men, appearing first in the 2013 Uncanny X-Men series. She joins Cyclops renegade band of mutants and becomes a key asset due to her ability to freeze and manipulate time. While she might seem a little overpowered, it's her character as an unsure young mutant who must decide which side of the mutant war to align with that makes her so compelling. She could be the next great X-Men protagonist once the Charles vs. Magneto feud loses its luster.
Dazzler
If I had my way, every entry on this list would be Dazzler. Despite the rumored Dazzler cameo in X-Men: Apocalypse (Played by Taylor Swift no less), we need to see X-Men's most biggest, mutant, pop-sensation/secret agent in the films proper. Hell, cast Taylor Swift if it means we'll get Dazzler, because you can't keep this shining mutant lady away from the screens forever.
X-23
With the knowledge that the next solo Wolverine film will be Hugh Jackman's last run with the adamantium claws, it's time we start looking towards the future of Wolverine. In the comics, the Wolverine mantle is currently worn by none other than Logan's opposite-gender clone, X-23. I'm not saying the film should copy the comics exactly, but bringing in X-23 as the next cinematic Wolverine would be a very welcome decision as it manages to bring in a fan favorite mutant into the films, as well as provide a unique choice for the next Wolverine in films.
Bailey Hoskins
Literally starring in a comic titled Worst X-Men Ever, Baily Hoskins was blessed with the worst mutant power. He has the ability to detonate himself as a powerful bomb, only the blast is so strong that he would die in the process. Basically he's a human powderkeg without any regeneration abilities to help him survive his own strength. He's not really crucial to the main X-Men conflict, but he would be a fun addition to have, constantly moping about his useless power in the background of Charles Xavier's School for Gifted Youngsters.