FBI Investigates Yet Another Democratic Party Hack
This time it's the DCCC, not the DNC.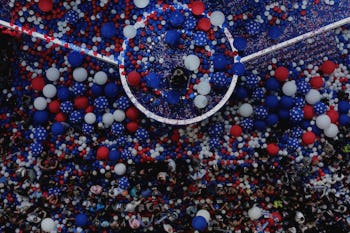 Getty Images / Chip Somodevilla
The 2016 presidential race is coming to a close, but it looks like hackers aren't anywhere close to done with breaking into Democratic organizations' systems.
Reuters reports that the FBI is investigating a recent hack on the Democratic Congressional Campaign Committee (DCCC), a group which raises funds to support Democrats in the House of Representatives.
The hack appears to be related to an earlier hack on the Democratic National Convention (DNC) back in June. The Campaign Committee later confirmed the hack in a statement to Reuters journalist Dustin Volz, in which it said it was working with security firm CrowdStrike (which also helped investigate the DNC hack), and the FBI to figure out how its systems were breached and address its security problems.
The Campaign Committee attack reportedly targeted information about the organization's donors. That data can include names, addresses, and other sensitive information, as we learned on July 22 when WikiLeaks published private donor information in a data dump from Hillary Clinton's email server.
Even NSA whistleblower Edward Snowden criticized Wikileak's decision, saying that "their hostility to even modest curation is a mistake."
The FBI is said to have connected the DNC and Campaign Committee hacks to Russia, despite the fact that DNC hacker Guccifer 2.0 says he's not working for Russia, and the Russian government has repeatedly denied any connection to the hacks.
But that hasn't stopped many, including presidential candidate Donald Trump, from assuming Russia is behind the hacks. Not that Trump minds; he urged Russia to look for more of Clinton's emails in a July 27 press conference:
Hours later, Trump claimed that he was being sarcastic when he made the remarks. Not that he inspired this hack anyway. Reuters says that the Campaign Committee hack most likely started in June alongside the cyber attack on the DNC.
No matter who is behind the hacks, it's clear that they aren't done breaching Democratic Party. Everyone who has donated to, emailed, or otherwise interacted with the party now has to worry that their personal information will be stolen, abused, and potentially revealed to the world by a group like WikiLeaks.