Superman Goes New 52 in 'Supergirl' Season 2 First Look
The Girl of Steel's cousin suits up.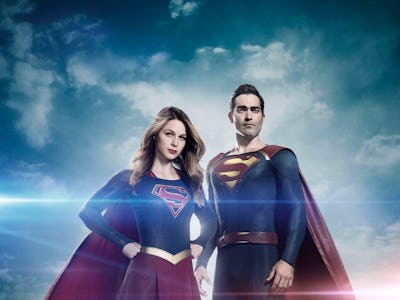 The CW
Man, the DC TV show just cannot seem to nail a superhero's first reveal. Flash's costume was criticized when it first appeared online, as was Melissa Benoist's Supergirl outfit, which fans though were too dark. "Dark" is the last word anyone can use to describe CBS (and now CW's) Supergirl, and Superman's reveal thankfully didn't place the Man of Steel in a dark, desaturated room for no reason (lookin' at you, Snyder). Unfortunately, it did manage to be typically weird and overtly photoshopped, even for a superhero poster.
In Season 2 of Supergirl, Kara (Benoist) will reunite with her iconic cousin on screen for the first time. The CW-verse's Man of Steel is Tyler Hoechlin (Everybody Wants Some!), who looks like Clark Kent come to life. The CW just unveiled Supes's outfit for the series and it's — well, it's still Superman, kind of. That's about the best we can say.
The suit takes a few cues from the 2011 reboot initiative The New 52. Superman ditches the red strongman underwear in favor of a more pronounced red belt, which doesn't appear to do anything except keep the costume from looking any weirder than it already does (Imagine if Superman wore just a big blue bodysuit). Thankfully, Hoechlin's outfit doesn't imitate New 52 Superman's neck area, which was covered with a short collar that protruded awkwardly over his red cape.
Also, it would be nice if there was some consistency between Kara's emblem and Clark's. Obviously, Clark maintains the classic yellow diamond, but it looks awkward when he stands next to Kara whose outfit doesn't have the logo filled in. Whatever happened to uniformity in superhero uniforms, damn it?
All in all, Superman's outfit looks a'ight. It looks less like Superman and more like a premium Superman cosplay from a Halloween warehouse. But like the Flash and Green Arrow, I'm sure no DC fan will mind after a few episodes.
Supergirl returns for Season 2 on the CW in October. The season will feature a cross-over with the three other DC shows Arrow, The Flash, and Legends of Tomorrow.