DC Will Relaunch Its Comics Yet Again in June to Reflect Its TV and Movies
It's only been five years since every title reset to Issue #1. Will it be the Newer New 52?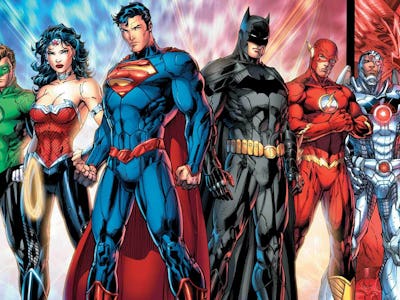 DC Comics
This June, DC Comics will undergo yet another continuity reboot of its ongoing fictional mythology with brand-new issue #1's. If this sounds familiar, just hold on a minute. Unlike DC's 2011 relaunch, the New 52, which had its share of detractors and fans alike, this relaunch will tailor the comics to better resemble DC's TV shows and nascent cinematic universe, which more formally kicks off this year with Batman v. Superman: Dawn of Justice and Suicide Squad. And it may wind up being the best, boldest move at a time when DC's comics desperately need one.
Rich Johnston of Bleeding Cool reports that the change is meant to align DC's shelves with its on-screen properties. "Flash, Green Arrow will be okay, anything that's not is less so. I haven't heard about Green Lantern. It might survive, given that the character will be included in Justice League as revealed during the Dawn of the Justice League special on The CW."
A lot has changed for DC since the New 52 relaunch in 2011. Though comic sales have tanked, DC's overall profile has blossomed. Arrow premiered in 2012 on CW, and its success ushered in DC's TV universe with The Flash and Legends of Tomorrow; it also landed Supergirl on CBS and Gotham on Fox. Constantine, based on DC's Hellblazer, lasted one season on NBC in 2014.
The fate of comics' two biggest powerhouses appear to lie in anything but their own comics. The flexible accessibility for television and movies certainly means a higher profile, but that doesn't always translate to more sales of printed stories. As confessed by a former DC "beancounter" to Bleeding Cool, book sales are "cannibalized" after movies: "Book sales get a bump when a film comes out, but after that, the film is usually the preferred medium." This reboot seems to acknowledge that truth, which for an 80-year-old comics publisher can't be an easy one to stomach.