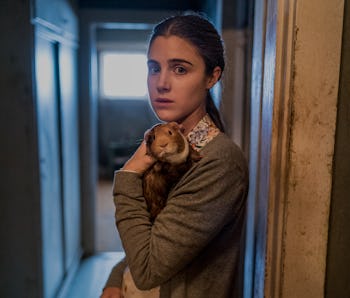 Entertainment
Lucy Griffiths is America's Kindest Killer 
"No matter how undesirable, at least it's hers and at least she is owning it."
AMC
The town of Annville, a sleepy, dusty nowhere in Texas, is cursed. Inhabited by vampiric vagabonds, angels on the lam, super-powered preachers, and crazy-as-hell, atheist slaughterhouse bosses, the world of AMC's Preacher is not a pleasant one. But there are a least a few regular folk in town, and the avatar for these plain ol' people is Emily Woodrow, a single mother of three and church volunteer played by True Blood and Robin Hood alum Lucy Griffiths.
While she may harbor unrequited feelings for Rev. Jesse Custer (Dominic Cooper), Emily was lost in a boring relationship with the town's mayor, Miles, who is a nice enough — if boring — guy, who teeters between kind-hearted and annoying. Hardworking but more of a wallflower, Emily took charge in a big way in last Sunday's episode, by feeding a hungry Cassidy (in need of people juice to heal from a nasty burn) with the boo she wanted to shoo.
"I think it was strangely moving," Griffiths tells Inverse about Emily's drastic measures to dump her ex. "Perhaps not emotionally, but in terms of mindset, inspiring, and I think for her quite focusing if that makes sense."
Calling from the UK, Griffiths opened up to Inverse about Emily's state of mind and what awaits when God arrives in Annville in the first season finale of Preacher on Sunday.
Last week, Emily fed the mayor to Cassidy, which was totally unexpected. Why do you think Emily took on such drastic measures to get rid of the guy?
Because for her, the stakes are quite high. Getting rid of Miles was the difference between being free or not in her life, and not just for the moment. I'm sure that if she hadn't killed him, she probably could have figured it out in a slightly less illegal way. But she, I think, feels strongly that if she doesn't do this, she'll be trapped forever. I guess that's how depressed she's feeling.
After what Emily did, does this signal a big change to her? Is this going to be a new Emily that's more active in taking charge of things in her life, or did she have this in her the whole time?
You've hit the nail on the head. I think she had the potential for it. That was how [director] Michael Slovis and how [producer] Sam Catlin described this scene. Emily, taking charge, taking control of her own destiny. No matter how illegal, unsavory, disgusting, No matter how undesirable, at least it's hers and at least she is owning it.
Anyone can see how Emily feels about Jesse. It's plain as day. But do you think she actually loves him? Is it just an attraction or is it stronger than that?
I don't know about love. Love is a two-way street. Unless he loves her back, which he doesn't, I think they love each other in a professional way. But whereas Emily thinks him in a romantic and sexual way, maybe, he doesn't think about her like that. She adores and thinks the world of him. Having said that, I don't think she's in awe of him. She's able to separate what he does and who he is from what he means to her. I don't think she has rose-tinted glasses. I don't think she is "love is blind" about him.
What can we expect from Emily in the season finale? I predict Jesse's service on Sunday isn't going to end well, including for Emily. Should we be worried?
You should never be worried. Worrying is ineffective problem solving. It's no use to anybody. She's going to be at church for this big sermon that Jesse is going to give. Everyone, really, and she's very much part of that. Of course, that's so funny that you think it's going to end badly or something.
Emily is an original character, not from the comics. What did you look to as a resource? Was there anything from the comics you looked at?
No. It was Sam's [Catlin, the show's co-creator] creation and I was the vessel. I brought an interpretation to it, but I think it was very clear. Some roles invite or have room for more interpretation than others, but I think Sam's writing is specific and I think it's purposeful. I don't think there's room for interpretation, because I think it's very clear what it is. It's almost like a recipe. If you do too much other stuff, you just mess it up.
Before Preacher you were briefly in Constantine, another DC/Vertigo show in which you also played a character not from comics. Was there anything you wanted to keep exploring with Liv in Constantine and couldn't?
I didn't want to explore anything about Liv, which isn't to say I didn't want to. It's just that I hadn't got that far about what I would like to see. I never have. I've never been in a series and thought, "I'd love to do this, and I hope I get a chance to do this," because, apart from the fact it's not in my hands, any kind of thoughts I would have, I think it's a waste of daydreaming.
I have heard American writers can and have worked with actors on ideas, but I never have. I've always thought, "I'll find out when I find out." You don't know what happens in life, so it's the same to not know in TV. I just don't get ahead of myself in that way. Also, with Constantine, when we were shooting the pilot, as when you're shooting any pilot, we didn't know it would get picked up. I was confident it would, but I didn't think that far ahead.
Looking back, what was your favorite scene to film in Preacher?
The scene where I'm talking to Cassidy on the steps, and I love the scene after that when we're having dinner together because I felt like I was doing a decent job. I like that scene with Joe [Gilgun] because Mary Hammond, who'd written that episode, let a decision about something fall to me. She'd said, "You choose, it's up to you." She'd not given me the easy way out and told me. I appreciated her doing that because I felt confident. I don't know if she meant for me to feel that way or if it was a happy accident. It was happy anyway.
Anything we should know about Season 2?
Well, I don't know but I think, or I've heard, that people are going on a journey. But actually, based on other things I know, I'm thinking that's not true. I don't know if they know, but I bet they must know. They must know.
Preacher airs its first season finale on July 31 on AMC. You can watch the first five minutes below.