Elon Musk Endorsed This Book From 1929 and Prices Skyrocketed
The market for 'Twelve Against the Gods' just became a lot more competitive.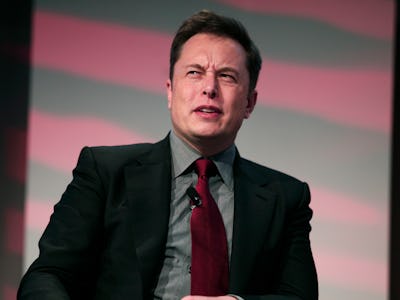 Getty Images / Bill Pugliano
People like Elon Musk have followers who hang onto their every word. This was never more true on Thursday, when it was revealed that a book recommendation from the Tesla co-founder resulted in a massive spike in sales price.
Speaking to Bloomberg after a tour of his Tesla Gigafactory in Nevada, Musk said that he's currently reading a book called Twelve Against the Gods: The Story of Adventure by William Bolitho.
It was enough to start a dash to vacuum up available used copies. A book that started off at $6 used skyrocketed to $99.99 overnight, 1500 percent higher than originally listed. The book is now sold out, although it's available in Kindle format for $5.57.
On eBay, it's the same story: a Penguin Books edition is going for $35.41 with three days left, while a 1930 first edition is going for $100.98 with two days left.
AbeBooks has much better options. 1954 edition is going for $4.56, although readers will have to learn German to get any enjoyment out of it. The library might not be much help, either — OpenLibrary has 15 people on the waiting list to check it out.
Its blurb may give an insight into why Musk enjoys it. It follows twelve historical figures: Alexander the Great, Casanova, Mahomet, Lola Montez, Cagiostros, Charles XII of Sweden, Napoleon I, Catiline, Napoleon III, Isadora Duncan, and Woodrow Wilson. Rather than focusing on their achievements, though, it looks at how their own fame and obsessions with success became their biggest flaws, eventually getting the better of them.
Musk has been in overdrive. His Tesla Gigafactory is set to open Friday. When it does, it will kick production of the Model 3 into overdrive, producing $35,000 electric cars aimed at bringing Tesla technology to the mass market. At the same time, Musk's other venture SpaceX is gearing up to send people into space next year. Meanwhile, his other venture SolarCity was reported back in April as generating enough solar power to charge 114,000 Teslas (so, all of them) per day.
How does a man responsible for these sort of grand plans avoid getting too ahead of himself? Charles XII defended Sweden for 18 years during the Great Northern War, but his later invasion of Russia proved to be his undoing. It's possible that had he been around today, Bolitho would have taken a keen interest in Musk, recognizing some of the traits he wrote about in the Tesla co-founder.