'Life is Strange' TV Show Could Be the 90s 'Stranger Things" 
The video game adaptation could hit all the same nostalgia for a different generation.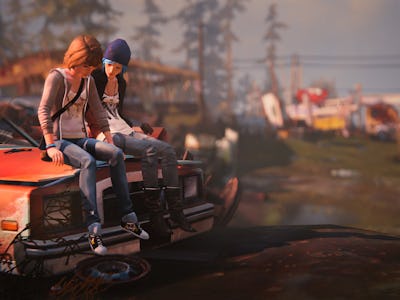 Dontnot Entertainment, Square-Enix
Legendary Digital Studios is working with Square-Enix to adapt the hit game Life is Strange into a live-action nostalgia-filled romance. The five-part episodic game from French developer Dontnod Entertainment went on to become one of the most critically acclaimed games of 2015, and if the adaptation is handled correctly, Life is Strange could see some of the same success as this year's Stranger Things television series on Netflix.
Life is Strange follows the story of Max Caulfield, who returns to her small hometown in Oregon to attend a prestigious boarding school. After a strange incident at school, Max discovers that she can rewind time. Using her newfound powers, she attempts to solve the mystery behind a missing classmate as supernatural occurrences begin happening around her.
The studio has been very forthright about the television shows that influenced the development of Life is Strange, especially X-Files and Twin Peaks. Easter eggs and references to the two shows litter the series, and the game's plot involving supernatural powers, dark incidents in a sleepy town, and off-kilter residents is essentially a combination of the two shows. And just as Stranger Things garnered rave reviews and praise for its stylish throwbacks to 80s pop-culture, Life is Strange could do the same with the 90s and millenial culture.
While the game's clumsy use of teenage slang quickly went from a point of derision to ironic quirk, Life is Strange proved to be an exceptionally clever translation of 90s pop-culture to the modern era. If the adaptation manages to maintain or even improve the ironically-90s tone from the game, there's no reason to doubt that a Life is Strange live-action series can't become a modern homage to Twin Peaks and the X-Files.
The game was critically acclaimed, winning a BAFTA for best story, a Peabody Award, and over 70 Game of the Year awards from video game publications. The series has been praised by the government of France as a positive example of the country's budding video game industry.