Dota 2 TI5 Prize Pool Hits World Record $18.5 Million
Power to the players, but for real this time.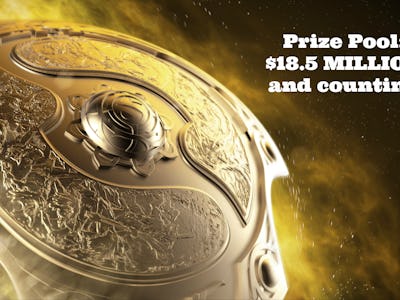 On August 8, Valve will round up the world's best Dota 2 players for The International Five, the fifth annual five-day competition that bosts the largest prize pool in digital sports. This year, the stakes are higher than ever before, as the prize pool for the select few winners has skyrocketed to more than $18 million on the strength of more than $17 million in player donations, topping last year's sum with plenty of time left to grow.
If you're asking yourself how in the hell it's possible for a video game tournament to generate that kind of prize money, the answer is actually quite simple. It all comes down to content.
When the International is announced every year, Valve donates $1.6 million to the winner's pot. Then, the company releases Battle Passes. These player-purchased add-ons allow Dota 2 players access to new characters and new levels as well as a whole bunch of other tournament-related goodies like the ability to wager on games. As players snap up this new content, Valve donates a quarter of the proceeds to the winners of the International.
In other words, the vast majority of the International's prize pool comes from those people excited to see the tournament play out.
Still, though, $18 million is a shitload of money for playing a video game. Yet, the International has been growing steadily since its inception five years ago. This year marks a world record, sure, but the prize pool for the International 4 was more than $18 million, too, when all was said and done.
In short, it's a good time to be a Dota 2 player, and that's not likely to change any time soon.