'Pokemon Go' Hits 75 Million Installs in Under a Month
The game still hasn't launched in China, either.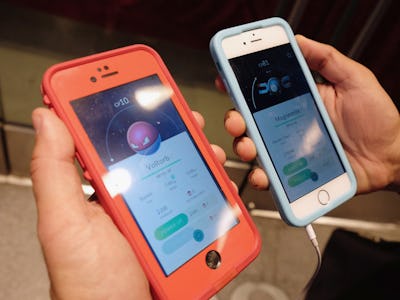 Getty Images / Mike Coppola
Pokémon Go is smashing records left, right, and center. The hype surrounding the game has led to a record- breaking 75 million global downloads on iOS and Android. Pretty impressive for a game that's only launched in 32 countries.
Analysis by app marketing firm Sensor Tower published Monday showed that the game has reached 50 million installs on Android in just 19 days. That's a record fast speed, placing it well above its competitors and demonstrating the unprecedented popularity of the game.
There are plenty of ways Pokémon Go can grow from here. The game still hasn't launched in India or China, a combined population of around 2.5 billion people. Players in China have been clamouring to get their hands on the game ahead of launch, paying for App Store accounts to access the game on iOS ahead of an official country launch.
Some gamers have even reported that Chinese players have spoofed their GPS location to access the game throughout Japan, beating out gym leaders to place their mark on the map.
China is emblematic of a wider trend. Even before Pokémon Go has launched in a country, there seems to be an incredible amount of hype surrounding it. Before it launched in the UK, a knockoff version called Go Catch Em All rocketed to the top of the iOS App Store charts. By the end of its first day at the top, though, Apple had already removed it.
Unfortunately, this success may not transfer into big fortunes for Nintendo. The company released a statement on Friday explaining that Pokémon Go's success would not have a major impact on the company's finances in the following week. Stock tanked at the news, shedding 18 percent of its value and losing a lot of the gains made during Pokémon Go's first couple of weeks on the market.