Here's the Weird 'Pokemon GO' Knockoff the UK Is Playing
Are you ready to go catch em all?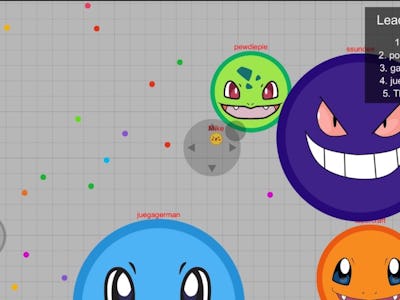 Inverse
Pokémon GO has caused a flurry of excitement in the four countries it has so far launched in. The UK is not one of those places, but on Monday I was shocked to find a very similar-looking game at the number one spot on the local iOS App Store. Has this tea-drinking island been blessed with a worthy imitation, set to tide us over until Nintendo and Niantic release an official version?
The answer is no.
The game goes by the catchy title of Go Catch Em All! - Hungry Monster.IO World Chasing Color Dots. Beating out established apps like WhatsApp (third place), Snapchat (fourth), and Instagram (sixth) is no easy feat, and the app has a three star rating, so it must be doing something right. Right?
The description, which oddly reads a lot like a description of Pokémon GO, says that the game will vibrate as you move around the world, vibrating when there's a Pokémon nearby. Apparently, you'll need to "get your shoes on, step outside, and explore the world."
But these are all filthy lies. I played Go Catch Em All from the comfort of my sofa. Not once did I have to step outside. I didn't even really need to put socks on.
Had I actually been able to play Pokémon GO, I may be able to speak with authority about the amount of clothing it requires to play. All I have to keep me going is transatlantic communications about a wonderful game where people meet up in parks, beaches, and town squares to hunt virtual Pokémon by moving around the real world.
This is not that game.
At launch, Go Catch Em All asks you to set a nickname. After that, you're represented on screen with a ball-shaped Pokémon. You collect dots to make yourself bigger, but you need to collect a lot of dots to see any noticeable growth.
There are other Pokémon floating around too. Who are they? Are they online players? Computer controlled? Switching on "Airplane Mode" doesn't seem to affect their movements, which would suggest that these aren't eager Poké-players, but they have names that look like other players. Popular YouTubers like "gamegrumps" and "pewdiepie" all show up in giant ball shapes, but there's little to suggest that these famous names have given their official endorsement.
Go Catch Em All is not a boring game. It's weird, has an odd art style, and is a blatant ripoff of a much larger franchise, but I didn't regret the time I spent playing it. I wanted to get better, to make myself big enough to eat the other players (once I'd reached that stage). There are far better games out there, though, and it's hard to get past the fact that it's essentially lying about what game is on offer here.
It's hard to even say that it's a good way of tiding players over until Pokémon GO launches. It's probably better to play the fantastic Ingress, made by the same developer, which follows a similar mechanic to Pokémon GO.
The core game of Go Catch Em All is free, but players can upgrade to an ad-free experience for £7.99, or just over $10. I do not recommend paying money for this game, or indeed downloading it altogether.