'Injustice 2' is Blue Beetle's Push for Relevancy
It matters that he's fighting one on one with Wonder Woman.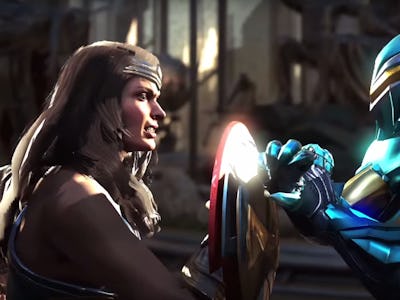 YouTube.com/InjusticeGame
On Friday evening at San Diego Comic-Con, DC introduced Wonder Woman and Blue Beetle (Jaime Reyes, not Ted Kord) at the panel for Injustice 2, the sequel to the 2013 fighting game Injustice from Mortal Kombat master, NetherRealm Studios. There was little doubt one of DC's Trinity and headliner of her own solo flick would be in the next installment of DC's new franchise. But pitted directly against the C-String Blue Beetle? That's both exciting and curious.
See, there's talk of DC at work trying to bring Blue Beetle to the big screen. He was almost in Arrow, but the show's producers were told he was off limits because of "other plans". In most rumors, the incarnation of Blue Beetle DC wants to adapt is Jaime Reyes, a Latino teenager who possesses an alien scarab that endows him powers like flight and laser blasts. That's in contrast to the previous Blue Beetle of the Silver Age: Ted Kord, a genius athlete with an array of gadgets who has become Jaime's mentor in DC: Rebirth.
In most cases, the Blue Beetle represents a fun, vigorous energy in the DC Universe. When you think of the generic label of "superhero," Blue Beetle and other DC heroes in his league (like Ted Kord's best friend Booster Gold) fit them perfectly. They have goofy names, goofy costumes, goofy power sets, and earnest intentions, so their stories are hardly ever gritty. The animated Young Justice series got a little real with Jaime-as-Blue Beetle intervening in a friend's abusive family life, and there are certainly some comics that don't avoid serious matters.
But there's a reason why Arrow, The Flash, and Supergirl producer Greg Berlanti and X-Men: First Class screenwriter Zack Stentz are (maybe?) pursuing a comedic tone for a Blue Beetle/Booster Gold movie: They're fun figures. And it's about time they joined the spotlight, alongside Batman and Superman.
While it's Jaime and not Ted Kord who rocks the Blue Beetle mantle in Injustice 2, Jaime is not that much more of a brooder than Ted.
So expect Blue Beetle to be a lot of laughs in Injustice 2 — he kind of gets juggled a lot by Wonder Woman in the Comic-Con trailer, but he also shows a nice mix of projectiles and melee strikes.
Warner Bros. Interactive is scheduled to release Injustice 2 from NetherRealm in 2017.