'The People vs. O.J. Simpson' Will Stream on Netflix in 2017, and Only Netflix
A new Netflix deal with FOX won't be any help for Hulu's flagging subscriber count.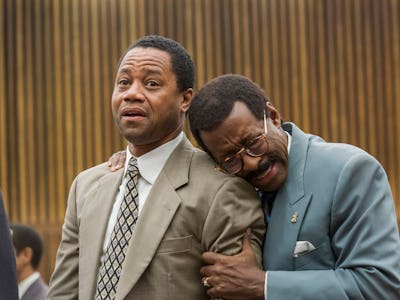 Prashant Gupta/FX
Some big information for The People v. O.J. Simpson superfans, or Roku-bound TV nuts who won't pay for cable: Netflix just announced a global SVOD (Subscription Video on Demand) licensing agreement for the American Crime Story series. This means that all seasons of the Ryan Murphy-produced anthology show will be exclusively streamed on Netflix. The widely celebrated Season 1, which covers the details of the O.J. Simpson trial, will be available in 2017.
This prevents Hulu from reaping any profits from the show. It also means, presumably, that free seasons will not be provided to Amazon Prime subscribers, as it has for select seasons of FX shows like The Americans and Murphy's own American Horror Story.
"We're excited to evolve our relationship with FOX and to bring their lauded content to our members around the world," Sean Carey, the Vice President of Global Television, said in Netflix's statement about the deal. "Given the popularity of the first season of American Crime Story, we are thrilled to offer this acclaimed drama series to our members."
There are no indications as to what else might spring from this new "relationship with FOX," but if the company continues to acquire FOX and FX's highest-rated shows, it wouldn't be surprising to see a small spike in Netflix on-demand subscriptions. Not that they really need the boost: Netflix remains the effective Spotify of VOD streaming services, with upwards of 75 million subscribers to Hulu's languishing 12 million.
Regardless, Netflix users should not squander their privilege. Make sure to try out American Crime Story, which Inverse deemed one of 2016's finest and most thought-provoking dramas.