'American Horror Story' Season Six Should Be 'American Horror Story: Mall' 
A sixth season was announced for the Ryan Murphy show. We make the case for why the setting will be American Horror Story: Mall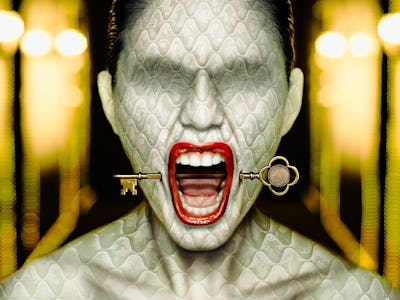 Ryan Murphy's bloodsoaked, pulpy, fish-eye camera happy anthology show American Horror Story has been renewed for a sixth season. As each season has a new setting, from asylums (American Horror Story: Asylum) to carnival freak shows (American Horror Story: Freak Show) details are sparse on what its sixth installment might bring, but here's some only-partially-wild speculation on why it might be American Horror Story: Mall.
Horror movie homages. Ryan Murphy and his team love paying homage to classic horror movies, from It to Nosferatu. In its fifth season, American Horror Story: Hotel is particularly lingering on The Shining.
But zombie movies — which make up a large portion of the horror canon — have remained largely unexplored thus far in American Horror Story. And Dawn of the Dead's hellish take on consumerism is just itching for the Ryan Murphy treatment.
Ryan Murphy's regulars. Ryan Murphy favors a regular cast of actors that includes Kathy Bates, Sarah Paulson, Finn Wittrock, Evan Peters, Emma Roberts, Denis O'Hare, and Wes Bentley. And while teens hanging out at the mall might not be as much of a thing in today's age of smartphones as it was in the '80s and '90s, American Horror Story has always played fast and loose with its timelines. Emma Roberts would be perfect as a '90s movie style queen bee, as we know from her performance in AHS's hilarious sister show Scream Queens. Add in the rest of the cast as a mixture of vendors, shoppers, and mallrats, and the season practically writes itself.
The wickedly meta potential. This is a show that thrives off of excess and lurid mixtures of sex and gore; a show that constantly goes over-the-top in the name of entertainment. The first episode of the current season, American Horror Story: Hotel featured a murder orgy, a mid-coital crime scene, and a rape-death by dildo monster. We complain and protest when the show goes too far and yet, if we watch it, we are bystanders in letting it happen. You know what that sounds like? Zombie hordes. How better to slyly wink at the audience than to show them lurid, over-the-top reflections of themselves letting this happen?
As this season is focusing on Murphy's spin on vampires, it only makes sense for zombies to be next in line. We're calling it now, bring on Season 6 American Horror Story: Mall. If it doesn't happen, it'll be such a wasted opportunity that we can only assume the creators' brains have been eaten.